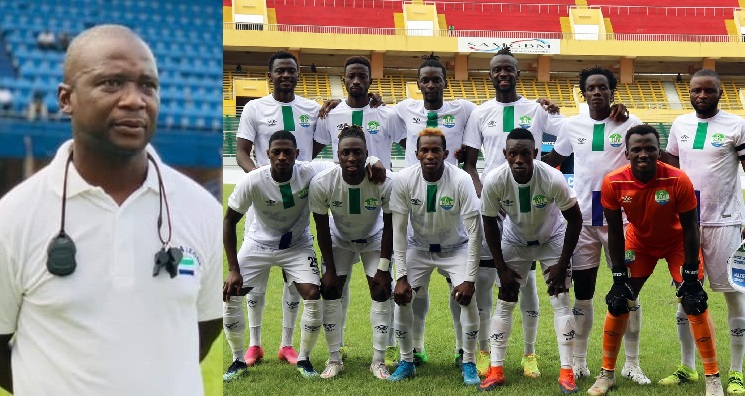 Ahead of AFCON 2021, Leone Stars Set For Farewell Match With Premier League All Stars
Sierra Leone National football team Leone Stars, in a bid to finally end its local friendly engagement ahead of the Nations Cup in Cameroon, will play a very significant friendly match with selected key performing players in the ongoing Sierra Leone Premier League dubbed "Premier League All-Stars".
The importance of this match cannot be overemphasized, as this will give opportunity to football loving fans to witness and have an interaction with both their local and foreign based stars before they depart for Cameroon to represent the Green, White and Blue after a 25-years absence.
The technical team, Players and both the SLFA and the Government needs the blessings of all for a very successful showing in Cameroon, and this match will give a great opportunity that will see top Pastors and Imams from the country's two top religions to stretch out their hands wide and seek God's good fortunes for our Darling Leone Stars.
Currently, a total of twelve foreign based players from the 27 selected in coach John Keister's provisional list have already jet down in Freetown, while the bulk of others are expected before Tuesday's farewell encounter to be held at the Siaka Stevens Stadium in Freetown @7:00 Pm. Ticket Prices for the match are: Open Stand Le 10,000, Covered Stand Le 25,000 while Presidential Stand is strictly by Invitation. The match is organised by a team of National team and Local Match Organisers.

Alimamy 'Kuraish' Conteh, one of the organisers of this match, stressed the importance of the match in which he stated that: "This match is a very important to both set of players, but especially the National Team players as this will give them a final mental preparedness and will also help them interface with most of their key fans before departing for the Nation's Cup. He also talked about the spiritual encounter the players and the football family as a whole would face as he reiterated that they have consulted high profile Men of God/Religious Leaders that will pray for our ambassadors for a period of one hour before the match commences.

Whiles the technical set up of Leone Stars is unchanged, the Premier All Stars will be headed by Sierra Leone Football Coaches Association President, former FC Kallon and Mighty Blackpool trainer Abu Sankoh.

Coach Abu Sankoh has selected a 27-man of top performing Premier League Players that will face Leone Stars on Tuesday, 28th December at the Siaka Stevens Stadium, with an aim of putting them into a stiff test. The selected players will start training on Thursday, 23rd December at the SLFA Academy at 4:00 PM.A host of the country's top football administrators are set to lead the Premier All Stars to Victory headed by seasoned administrator and Chairman of FC Kallon Tunde Scott as chairman.