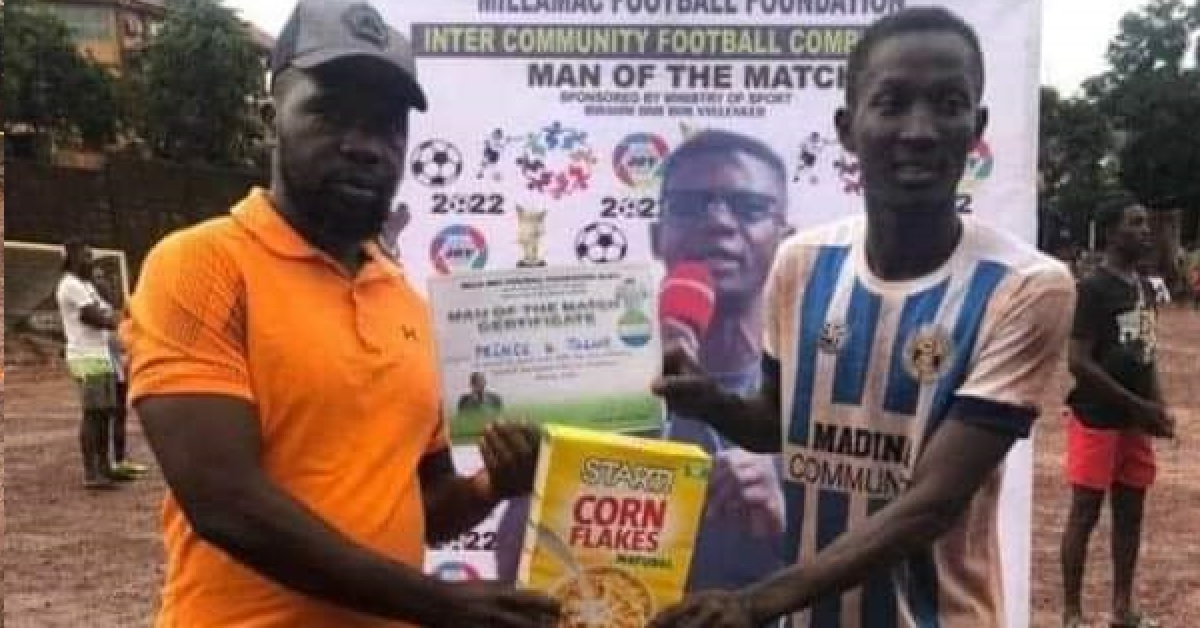 Man of The Match Awarded With a Le10 Cornflakes Box in Ahmed Gento Trophy 2022 Community League
In the ongoing community league competition organized by Millamac Foundation, battling for Mohamed Gento Trophy 2022, it has reached us that a Man of the Match was awarded with a box of cornflakes in the competition.
A Community League is a volunteer, not-for-profit organization formed to meet the unique needs and interests of residents within a defined geographic area. It is a way of bringing and entertaining indigenes of the community. The Mohamed Gento trophy 2022 competition was organized to bring youths together and entertain the community.
In the ongoing Gento trophy 2022 in Freetown at the Millamac Football Foundation Inter-Community Competition, a player was awarded Man of the Match with a box of cornflakes.
Many who witnessed the occasion were pleased as the player was acknowledge for his effort and skills despite the cornflakes award given. According to our sources, the cornflakes award was part of a marketing strategy for a business owner. The player was awarded a sum of money as the Man of the match plus a cornflakes box.
Mohamed Gento Kamara is a businessman and CEO of Gento group. Gento Group is a leading construction company is Sierra Leone with services ranging from Building and Construction, Estates to Granite and Haulage services.
In this community league named after him, it is a first ever in the history of Sierra Leone as Man of the Match is awarded with a box of cornflakes. There have been matches where the man of the match was given just a hand shake. This celebrity having been awarded a cornflakes box with a sum of money will go a long way in his football career.
Congratulations sir on you achievement!