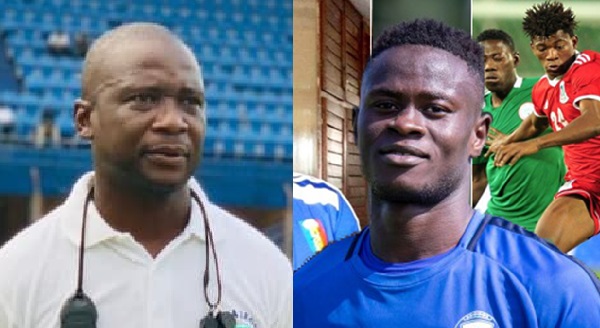 Why Musa Tombo Will be Dropped From AFCON 2022 Leone Stars Squad – Coach Keister Gives Reasons
The head coach of Sierra Leone's National team, John Keister has said Bo Rangers' striker Musa Noah Kamara fondly called Musa Tombo will dropped from the squad to participate in the Africa Cup of Nations (AFCON) 2022 in Cameroon if his indiscipline continues.
After the country's first AFCON Qualification since 1996, the Technical team of Leone Stars has been embarking on a thorough routine training with a list of 30 home based players in a bid to ensure they are holistically prepared for the January AFCON Competition in Cameroon.
"The idea to embark on a two-week routine training at each Provincial Artificial turf, Bo, Kenema and Makeni is due to the poor facility of the training pitch at the National Stadium", says the Team Manager Babadi Kamara.
Among the 30 home based players called to participate in the routine training is the Bo Rangers' striker Musa Noah Kamara fondly called Musa Tombo.
In an interview with the Head Coach John Keister about the team's training performance so far, he said that his boys are keeping up to pace to meet the expectations of the tournament since it would be their first time for these lads to take part in the AFCON 2021 Competition.
However, John Keister expressed dissatisfaction on a grossed indiscipline behavior put on by Musa Noah Kamara who has never shown up in the entire training process since it started almost two weeks ago.
"I have been calling Musa to know why he has not been showing up for training but he is to no avail. His colleagues are here training everyday while he's in Freetown rejecting my calls. In fact, I even provided him with money when he said he's constrained with financial needs to join the team in Bo. If such behavior continues, I will be left with no option than to drop him from the squad", John Keister expressed bitterly.
It could be recalled that on the 15th June, 2021, Sierra Leone beat Benin 1-0 in Guinea to qualify to the AFCON Competition. Musa Noah Kamara was one of the beneficiaries who got one hundred million Leones and a plot of land from the Government of Sierra Leone without kicking the ball. For many football loving fans, Musa should be seen as one of the ambassadors to represent the country in Cameroon. But his on and of the pitch behavior speaks otherwise.

For Musa, now it's the time for him to rally behind the team for glory and he's not better than those who did not get any support from the government's promise but they are still loyal to the team by training regularly.
John Keister ended the interview that football should not be linked all the time with public sympathy for players.
"If Musa failed to show up for these routine trainings, I will be left with no option than to drop him from the squad, the Head Coach emphasized."