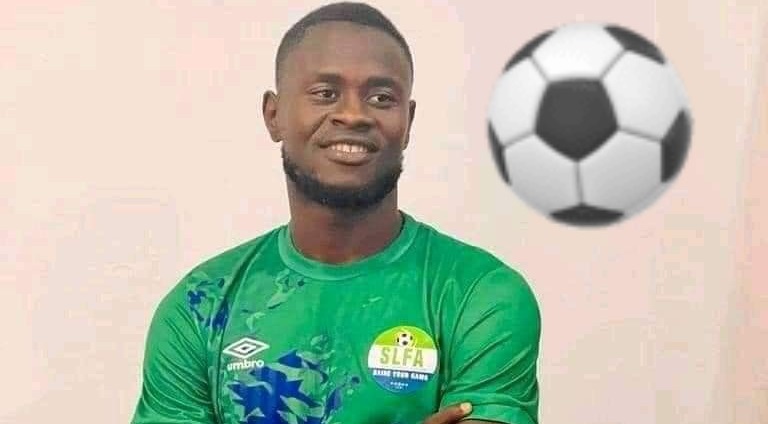 Leone Stars Striker, Musa Tombo Sends Touching Message to His Fans After Scoring Sierra Leone's First AFCON Goal
Musa Noah Kamara (Tombo), has sent a special message to his fans for believing in his talent over the years. Kamara scored Sierra Leone's first goal in the ongoing African Cup of Nations in Cameroon, calmly blasting home with his left foot on the top left hand corner in the 55th minute of play, restoring parity for the Leone Stars after the team had gone 1-0 down to Cote D' Ivoire.
Sierra Leoneans back home had called for Musa's inclusion into the Leone Stars starting line-up for the second game against the Elephants after the team had a blank showing in its first match against Algeria. Musa Noah Kamara is Sierra Leone's top-tier football league leading top scorer with 9 goals, and fans believe with his instinctive eye for goal, he will be the solution to the country's goal scoring problem.
Musa Tombo by all means did not disappoint his craving fans, sending them to ecstasy with brilliant finish
"I felt really good scoring the first goal for my country in this year's AFCON after 25 years. It's a dream come true and all this wouldn't have been possible without the support of my fans", he told Epic Radio.
"My fans are my heroes, they deserve the accolade as they are ones who stood firm and requested for my inclusion. I was always looking for the opportunity to pay them back with a goal, and thank God I did not disappoint".
Musa Tombo also sends a special tribute to his wife who was seen kneeling down to bless him before his departure with the team to Cameroon.
The 21 year old said: "My wife's prayer plays a pivotal role to my scoring today, I appreciate God for bringing her into my life", he said.
Musa Noah Kamara says his inspiration coming into the AFCON in Cameroon is his desire to do the positive for his country, family members and fans. He expressed appreciation to them for the support and belief in him as he promised to do his utmost best to score more goals and appease them.
Sierra Leone plays its final group stage game in Group E on Thursday, 20th January at the Limbe Stadium in Beau, South-West Region, and after his heroics on Sunday; Musa Tombo will be in contention to start for the Leone Stars in all important match.
Source: Epic Radio