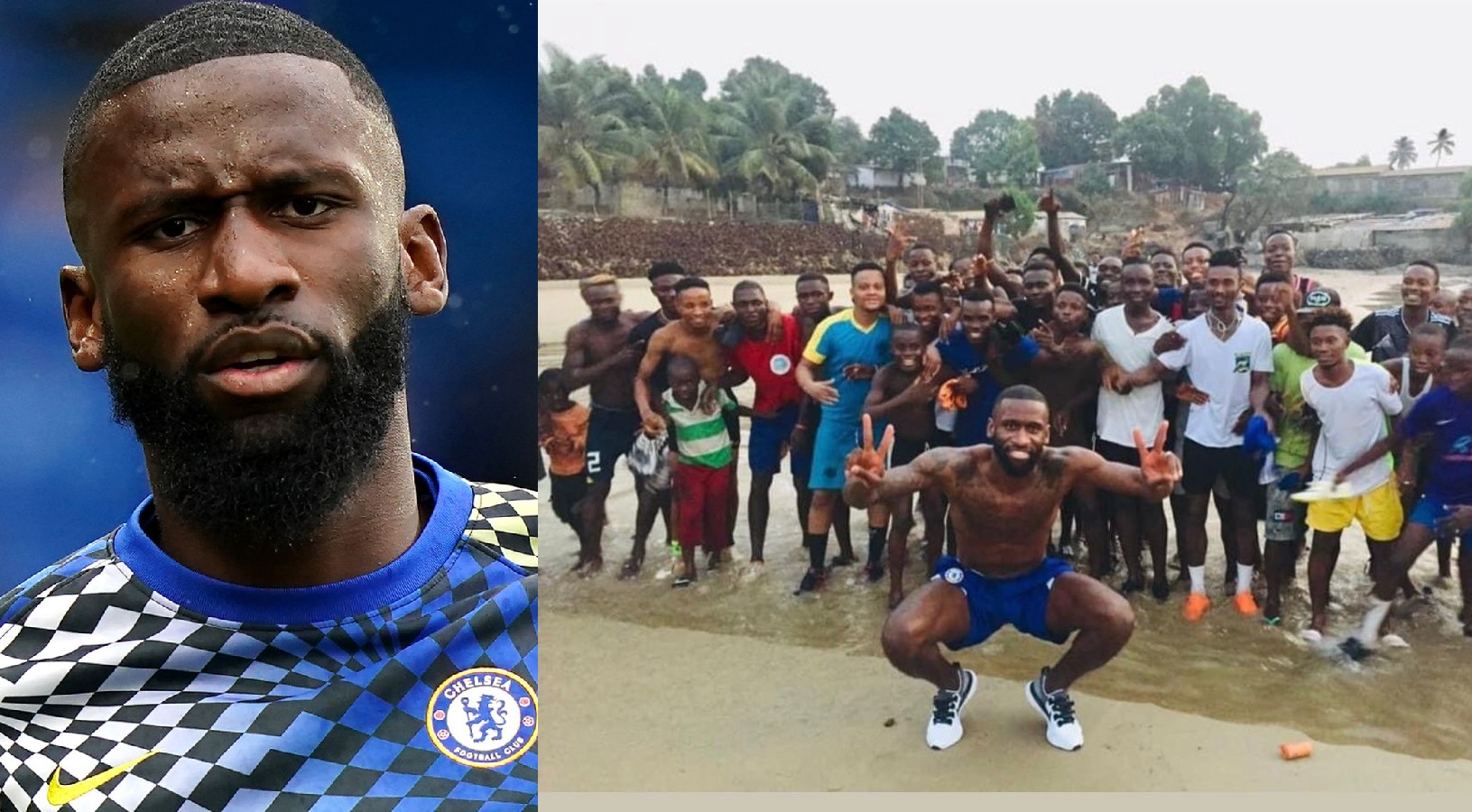 Chelsea Defender, Antonio Rudiger Spotted Jogging at Freetown Lumley Beach
The Chelsea and Germany Central Defender Antonio Rudiger has been spotted jogging  at  Freetown Lumely Beach  with some Security Personnel.
Many Sierra Leoneans now recognized Rudiger's humility and philanthropic gesture in the country, especially with the Antonio Rudiger Foundation that will be launched tomorrow Thursday.
Rudiger's coming to Sierra Leone is geared towards the establishment of a foundation for less privilege children in the country.
The defender recently expressed appreciated feelings towards Sierra Leoneans for welcoming him in the country with  open hands .  After his physical exercises at the popular beach, the Chelsea Star later took photos  with  ordinary Sierra Leoneans he met at the place
"I'm speechless- these crazy people thank you from the bottom of my heart for this overwhelming welcoming. Sierra Leone God bless you"
In an Interview today with AfricaN Young Voices Telesion, Rudiger said his homecoming is to connect with Sierra Leoneans and has enjoyed the reception from the people so far.
He appreciated the effort of AYV in pushing the youth and young people of Sierra Leone. He talked about his love for Sierra Leone and the things he is working on to help Sierra Leonean talents grow.
Rudiger began playing football at a noticeable platform at VfB Stuttgart in 2012. Rudiger also played in the final of DFB Pokal where they lost 3-2 against FC Bayern Munich.
Rudiger was part of several German national youth football teams, including the Germany U21 team.
He made his debut for senior German national team on 13 May, 2014 in a 0-0 draw against Poland. He also got selected in Germany's 23-man squad for UEFA Euro 2016 before he was ruled out due to an injury.
He rise to glory During 2013-14 season, Rudiger made 35 appearances for VfB Stuttgart where he scored two goals. After that he moved to Roma in 2015 and to Chelsea in 2017.
He had a very impressive season during 2015-16. For instance, on February 2016, Rudiger scored a goal in only the 4th minute of the match against AC Milan. His ruthless determination and spirit helped him to get regular matches for both his club team and national team. This earned him a transfer in one of the leading clubs, Chelsea for a reported fee of £29 million. In 2017, he was also part of the squad that won the 2017 FIFA Confederations Cup