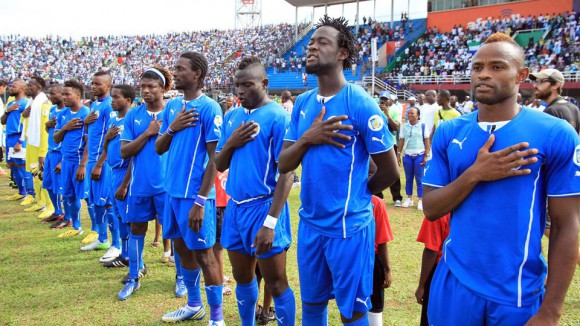 Shortlisted Candidates Who May Emerge The Next Coach of Leone Stars
The Sierra Leone Football Association, (SLFA) is set to unveil their new head coach by next week according to a report.
With barely three weeks to go for Leone Stars to host the champions of Africa Ivory Coast in their second match of the 2017 Afcon qualifiers, the Football FA has off Monday 10th August start the search for a new head coach for the national team.
Interviews of the six short-listed candidate for the hot seat is expected to last for a period of two days, according to a press release by the FA.
The coaches short-listed are John Keister the national Under 23 coach, German Herzog Carsten, Drago Mamic, Belgian Luc Eymael, Dutch Tahseen Jabbary and Serbian Zavisa Milosavljevic.
Serbian-born Croatian Drago Mamic, 61, is a former football player and manager and also the former Maldives national team coach.
Tahseen Jabbary was coach of Syrian team Al-Majd at the 2009 AFC Cup. He later coached the Omani team Al Arouba.
Zaviša Milosavljevic is a former coach of the Serbian Under-16 and Under-19 national teams. The 54-year-old also coached five clubs in his native Serbia, including top-flight outfits FK Mogren and Dinamo Belgrade.
From 1999 to 2001, Milosavljevic managed FK Bor in the Serbian second division before coaching APR FC in Rwanda for a year, winning the national cup and national Super Cup in 2002.
Sierra Leone are looking for a successor to former international John Ajina Sesay, whose contract ended after the country's poor outing in the last four matches of the 2015 African Nations Cup qualifiers.
Irish man Johnny McKinstry, 30, was in charge during the opening campaign but following defeats by Ivory Coast and DR Congo in the 2015 Africa Cup of Nations qualifiers, he was sacked just six months into his permanent contract.
Since 1996 Leone Stars have been guided by three Foreigners namely Roger Palmgren, Lars Olof Mattson both (Swedish) and Irish man Johnny McKinstry.
Lars Olof Mattson and Johnny McKinstry both did very good job for the national team but they were unable to qualify the team to at least one Afcon in recent years a story which all Sierra Leonean was expecting to be changed as they came very close in 2010.
Leone Stars who have moved four place up in the latest FIFA ranking of August 6th from 111 to 104, Ivory Coast 2nd in Africa 21st in the world, Gabon 64th in the world, and 15th in Africa, Sudan 87th in world and 22nd in Africa, whiles Sierra Leone 104 in the world and 30th in Africa.
Do we really deserve this result? In recent matches we have lost all our last five outing in all categories with both the A and B Teams?
According to the Head of Media SLFA Abubakarr Kamara during an interview on Air radio 105.3 FM Sports show said the recent elevation of the country on the FIFA ranking is due to the goalless draw the U-23 boy held their Algerian counterpart.
Meanwhile John Keister looks more confident for the job ahead of the Five Europeans as he has been in the system with the players and hopes to land the job as according to him why he applied is because he is an ambition person.