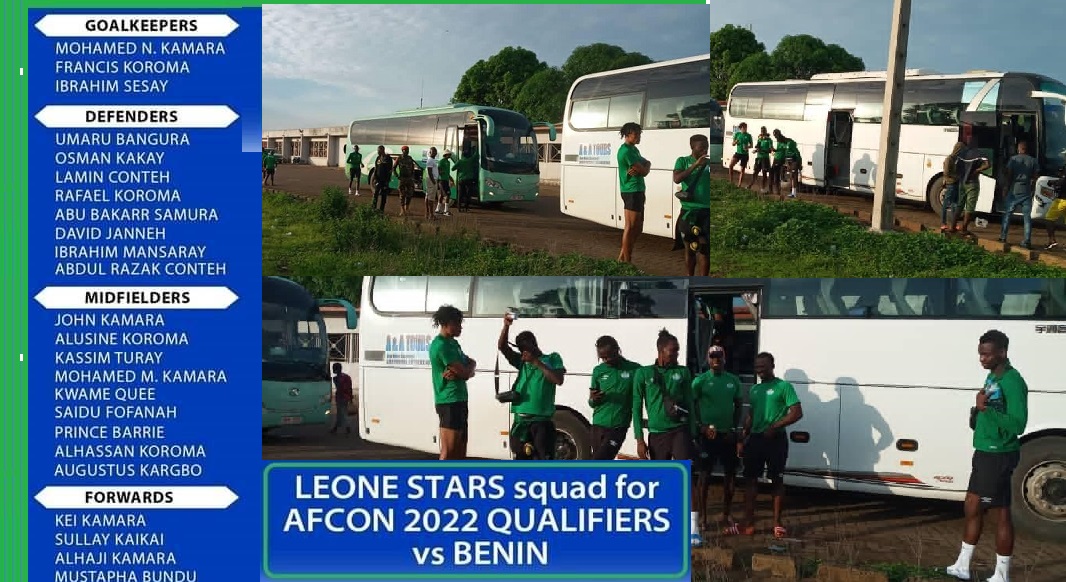 PHOTOS: Sierra Leone Players Depart Freetown For Guinea Ahead of Benin AFCON Qualifier
Sierra Leone's National team. Leone Stars have departed the country's capital, Freetown for Guinea today where they are expected to play against the Squirrels of Benin in the AFCON qualifying match.
Speaking to Sierraloaded on Friday, Ibrahim Kamara head of media and marketing at the Sierra Leone Football Association (SLFA) shared updates on the team's preparedness ahead of the match on Monday.
He said the team will leave Sierra Leone for Guinea today so they can have enough time to rest and recuperate when they arrive in order for them to be able to train prior to the match.
He added that as a team they are very comfortable when going for this match as most of the players that had missed the match against Benin that was canceled due to Benin's players testing positive to COVID are now available.
Kamara then spoke on the reason behind the shift in the venue in which he said Sierra Leone did not meet the standard to host international matches.
"The reason behind the shift of venue is because the Siaka Steven Stadium is not up to standard to host CAF Competitions so that was why they had to move it to Guinea," he said.
It could be recalled that on May 11 CAF asked for the Siaka Steven Stadium to be evaluated and it was through this that CAF concluded that they were not up to the standard to host international matches.
Kamara also said they felt good about winning the matter at CAF's Arbitrary court which has given us the opportunity to play this upcoming match.
"The matter Benin filed to CAF was for CAF to award them with the 3 points without them playing for it, so I fell good not just for the SLFA but for the country as a whole," he said.
The Government of Sierra Leone has through the Ministry of Finance yesterday disbursed over 6 Billion Leones for the said match to the SLFA.