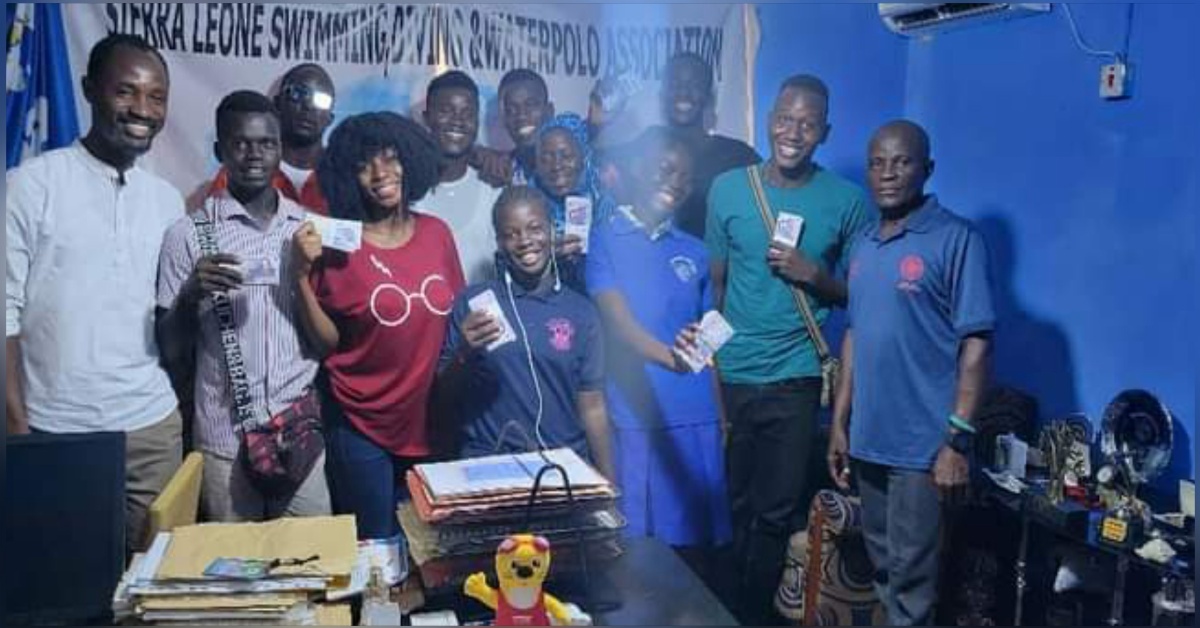 Sierra Leone Swimming Executive Committee Awards Educational Supports to 13 Swimmers
With funds from the 2022 FINA Olympic Aquatic Support Programme (FINA OASP), the Sierra Leone Swimming, Diving and Water Polo Association Executive Committee today Friday 18th November 2022 distributed Educational Support of NLE 500 to 13 Swimmers at their Secretariat in Kroo Town Road, Freetown in an event which was streamed live to ensure wider viewing.
In his welcome statement to the swimming athletes, the SLSDWA Public Relations Officer, Reginald Brian O. Sawyerr thanked them for their tireless efforts, and their "` "`continuous presence at training sessions to keep abreast with modern trends in swimming while at the same time being prepared to promote the name of the association at local and international events. In closing, the Swimming Association PRO introduced the Executive Committee members present at the occasion and members of the technical team.
Admonishing the swimmers proudly the Secretary-General, Mr. Abdul Turay stated that the support to them has become an NF custom, yearly over the past four years in November with support funds from the 2022 FINA OASP. " This is to ensure we provide you with educational support which we believe should go side by side with their swimming training. I am proud to announce that all 13 swimmers supported last year were successful in both Private and Public Exams. Congratulations to you all, we are proud of you. As usual, each swimmer will receive a cash support of Five hundred thousand Leones (NLE 500)," he ended.
On behalf of the Sierra Dolphins Elizabeth Y. Kamara, a Tourism and Aviation student heaped thanks and appreciation to the Swimming Executive Committee for their tireless support towards their development pathways over the years. Furthermore, Elizabeth encouraged her colleagues to use the money for its intended purpose