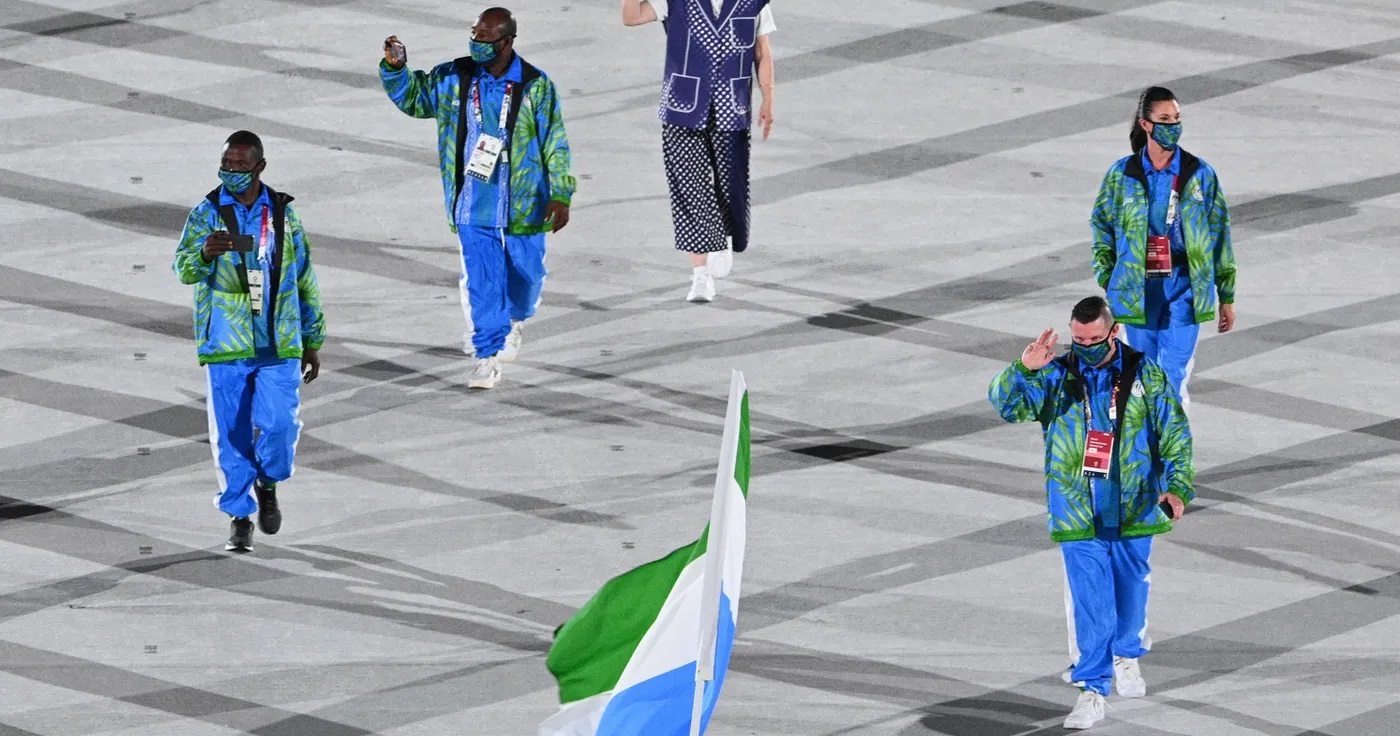 Sierra Leone Tracksuits Rated Best at The 2021 Olympic Opening Ceremony
The Cut, New York based fashion magazine has rated Sierra Leone's track suit as the best in the 2021 Olympic opening ceremony held in Tokyo yesterday. 
An olympic opening ceremony with all the usual pomp and tradition played out Friday night in Tokyo in front of a nearly empty stadium.
Athletes paraded in, waving at empty seats. Costumed volunteers gyrated as if to draw excitement from a crowd that was not there. Oaths were taken, speeches were made, dances were danced, all of it for the entertainment of millions of television viewers.
For Sierra Leone, this will be the nations 12th appearance at the Olympics since its debut in 1968, except for two occasions.
Sierra Leone failed to register any athletes at the 1972 Summer Olympics in Munich, and also joined the rest of the African nations to boycott the 1976 Summer Olympics in Montreal.
The two-hour-long parade of nations at the opening ceremonies is always a fashion showpiece, and even with the pandemic, this year's collection brought the heat and the cringe.
According to The Cut, "Each nation, of course, brought their own color to the ceremony. Some wore elaborate gowns and headpieces and suits. Some, like the athletes from Bermuda, wore … Bermuda shorts. And others wore nothing at all on top. The Ukrainians donned yellow fanny packs. Sierra Leone had the best tracksuits…"
Team Sierra Leone is getting ready to showcase its talented athletes to the world with a tight schedule in the coming week.
Sierra Leone's Judoka, Frederick Harrison will be competing on Tuesday 27th July 2021 in the men's Judo 81kg category against Murad Fatiyev of Azerbaijan. This is the first time a judo athlete from Sierra Leone will be competing in the Olympics.
Friday, July 30th will be a busy day in the Sierra Leone camp, as three (3) athletes will be flexing their muscles in their various events.
Sierra Leonean USA based sprinter, Maggie Barrie, will be competing in the 100-metre preliminaries, whiles swimmers, Joshua Wyse and Titi Dumbuya will be also competing in the men and women 50-metre freestyle.
Meanwhile, the Chef De Mission of the NOC-SL, Unisa Deen Kargbo has confirmed that Sierra Leone has been invited to compete in the Trampoline event at the games.