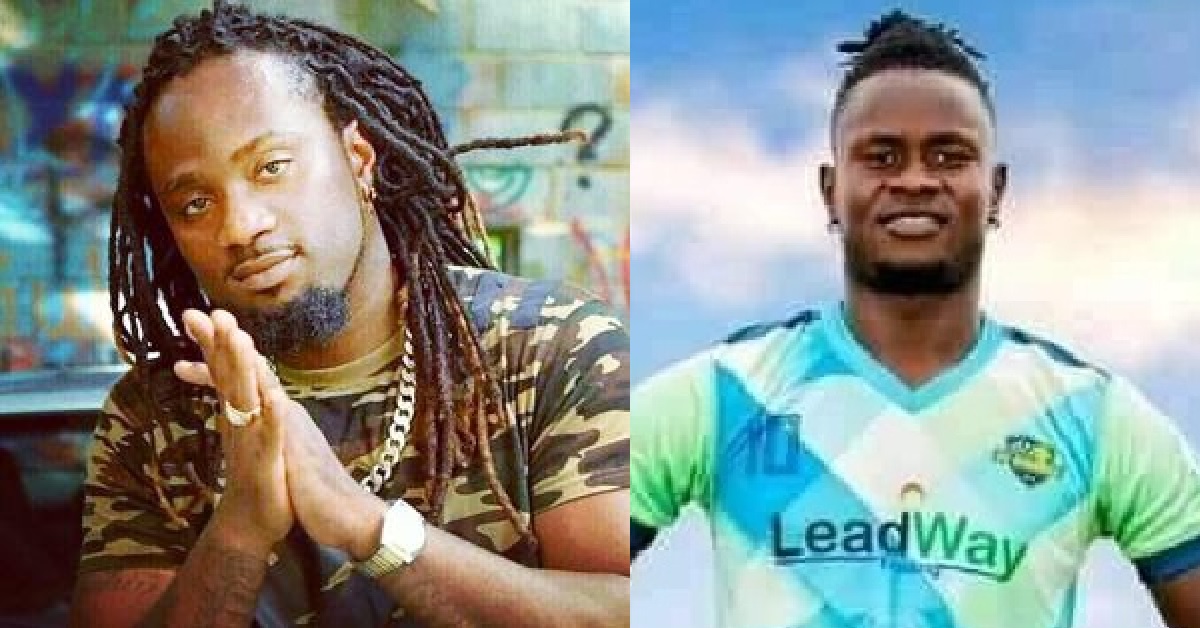 Souferior Shower Praises on Musa Tombo For Playing in Sierra Leone Instead of Overseas
Sierra Leonean rapper based in the United States, Souferior has praised the 2019 Sierra Leone Premiere League highest goal scorer and golden boot winner, Musa Tombo for playing in Sierra Leone instead of overseas.
The rapper admired the actions of the soccer star in choosing local leagues over international league as the 19 years old signed a three-and half year deal with Swedish second tier side Trelleborgs FF and decided to abandon the deal just to play in Sierra Leone.
In 2019, Musa hit the news waves across the world after he abandoned a lucrative football contract in Sweden and returned home to Freetown. His excuse was, the environment was too cold for him. He even threatened to commit suicide if the club refused to allow him return to Sierra Leone. The club and the security forces hurriedly put him on board Brussels Airlines and the next day he was flown to Freetown.
Upon arrival, Musa changed his statement. He said he wanted to come home and play for his country. That decision made news across the world and some even used social media to condemn and called him derogatory names. Some even coined the word "Musa Tombo" to mean, running away from opportunities or running away from the cold weather of Europe.
In 2021, God gave Musa a second chance to go to Norway and practice his craft as a professional football star with a top club. Everyone was happy for Musa and prayed for God to bless him this time round. Musa even posted on his Instagram page while leaving the Airport. He also updated his fans when he arrived in Norway. He stayed for just a week doing his physical fitness training under the watch of his agent and fitness coach.
Then the shocking news came. Musa refused to train in Norway urging his agent and team to get him back to Sierra Leone asap. "Musa even threatened to commit suicide if he is not put on board the next flight back to Freetown. Few days later, Musa was put on board Air France flight to Freetown. Musa arrived at the Lungi Airport few hours later.
In 2021, Musa Tombo joined Bo Rangers on a permanent transfer. The Southern Province top-tier side was leading the 2020 season before the campaign was halted due to the covid-19 pandemic. It was understood that, Bo Rangers paid the sum of Le 50,000,000 with two players, midfielder Nathaniel Tangovular and Mohamed Gas Kamara as part of the deal.
As the soccer star is enjoying playing for Bo Rangers, Sierra Leonean rapper, Souferior has praised the action of the footballer for playing at home. The rapper said he respects the action of Musa Tombo as he is making a living in Sierra Leone and taking care of himself.
"MUSA Tombo is living his best Life, playing for his Home Town league Club instead of oversea. Most don't understand that's man's decision, I must admit I didn't neither, but look he is making a living taking care of himself at a young age doing what he LOVES and has brightened his Stardom and value  all at HOME. I respect that!
That Man deserve all the roses 🌹 grown in SALONE!," he wrote on his Facebook page.