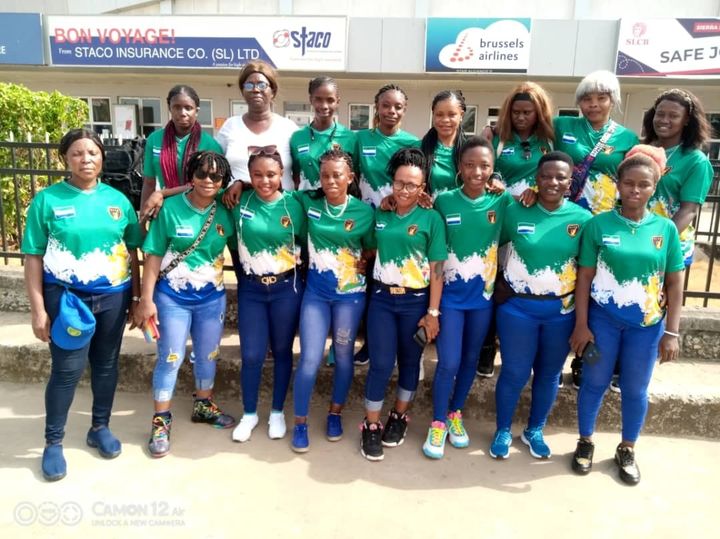 Sierra Leone Women Defeat Ghana in Women's T20 Cricket Tournament
Sierra Leone national Women's Cricket team has registered their first Victory in the Nigeria Invitational Women's T20 tournament at the Tafawa Balewa Square Cricket Oval in Lagos.
They replied with a resounding victory against Ghana after a disappointing defeat on day one , winning the match by 87 runs.
The ladies Patriots of Sierra Leone won the toss and elected to bat first..
They posted 136 runs for the loss of 2 wickets in 29 Overs. The girls set a target of 137 for the Ghanian's who only replied with 49 runs all out in 12.5 Overs .
Sierra Leone's Fatu Pessima won the player of the Match award for exhibiting an outstanding performance.
Sierra Leone will play their next match against Rwandan on Wednesday and they will rest on Friday for their third match against the Gambia on Saturday
One of the top contenders in this competition is team Ghana, whose squad was picked from a recently concluded Ashanti Region T20 League that has become quite popular in the country. They were left in dismay as they suffered in the hands of the Sierra Leonean Ladies.
Regardless of the position you take as a fan, stake holder or neutral, the NCF Women's T20I tournament is set to make history and provide immeasurable level of excitement and competitive cricket for women's cricket in West Africa and by extension, the entire continent.
Sierra Leone was under intensive training ahead of the the Tournament and could use this tournament to make up the grounds for their disappointing performance at the Botswana ICC Africa Women's T20 World Cup Qualifier in September 2021
The Sierra Leone delegation, comprising 14 players and 4 officials, arrived late in Lagos on Sunday to join Ghana, Rwanda, Gambia and host Nigeria.
The tournament will be played on a round robin basis. The team with the highest points becomes the winner of the Women's Series