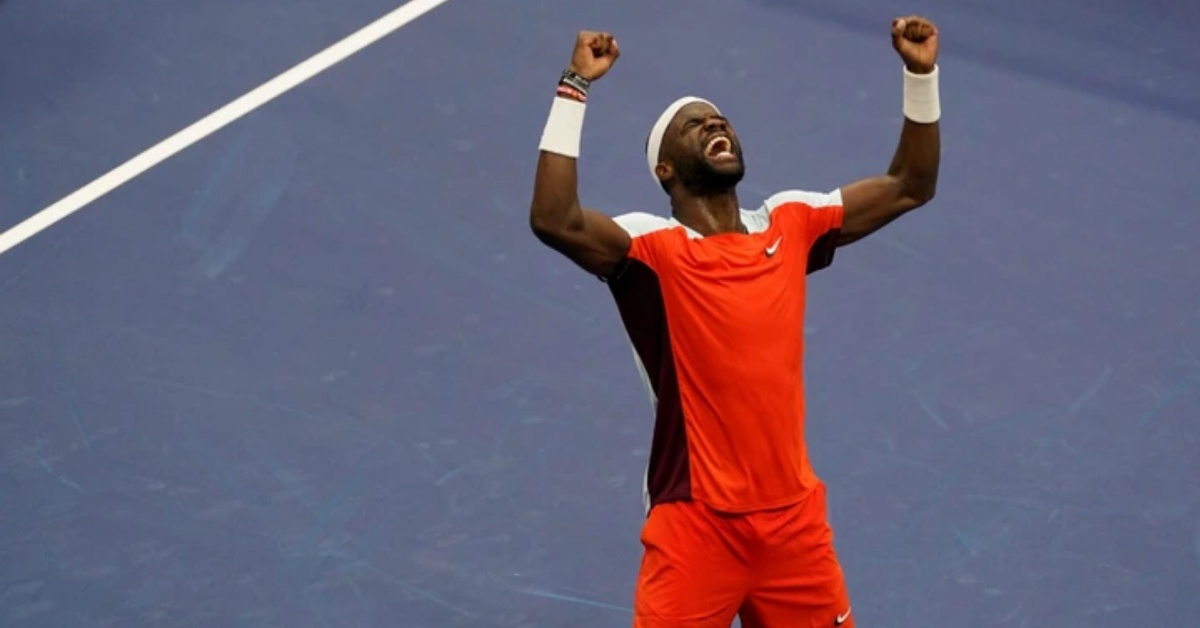 It's A Big Thing For Us': Francis Tiafoe Is The Pride And Joy Of Prince George's Sierra Leonean Community
Francis Tiafoe is the first American man to advance to the semifinal round of the U.S. Open since 2006, after defeating Russia's Andrey Rublev and Rafael Nadal earlier this week. For many, the Prince George's County local has become a point of pride due to his roots in both the state of Maryland and Sierra Leone, the home country of his parents in Western Africa.
To Rugiatu Sesay, the longtime owner of After 12 Cafe in Hyattsville, Md., it's no surprise that Tiafoe is a success in the world of tennis.
"I [knew] he was going to be somebody," says Sesay, who was born in Sierra Leone but came to the U.S. with her older brother and sister during the civil war in 1995.
Sesay has been in business for about 20 years, first as the owner of a laundromat and now a small grocery store and restaurant. In that time, she's picked up a lot of customers – including Tiafoe, his twin brother Franklin, and their father Frances Sr.
She says they were frequent customers and now, it's her turn to support Tiafoe.
"They used to come here every day with their dad," says Sesay. "I'm so happy to hear that this guy is working so hard and he's going to finals."
While Sallu Cyllah doesn't personally know Tiafoe, he says places like Sesay's cafe are where the Sierra Leonean community can come together and express their shared pride. He says his family has been living in Prince George's County since moving from Sierra Leone in 1973, and that he's been eating at the restaurant for years.
"This is our headquarters," says Cyllah. "We're caring people, close knit. It's like a big family, for real."
As the son of immigrants who left their home country during the civil war, Tiafoe's journey bears a lot of similarities to others with roots from Sierra Leone. For Sesay, it serves as inspiration as to where determination can take you.
"America is a place of opportunity," says Sesay. "If you work hard, whatever you want to do, you can achieve it here. So I focus on doing a business."
Among Sesay's dishes are jollof rice, oxtail, egusi, cassava leaves and fufu. As one of the few restaurants that serves cuisine from Sierra Leone, she hopes more people will come in for a plate.
"I'm proud to be a Sierra Leonean," says Sesay. "I do it the African way. Tasty, tasty, tasty."
Although Norris Seldon is not from Sierra Leone, he wanted to stop by to try Sesay's food. He says Tiafoe's wins could lead to more customers in the neighborhood and throughout Prince George's County.
"It's very encouraging for this area alone," says Seldon. "It's a big thing for us."
With the real possibility that Tiafoe could be the next U.S. Open champion, Cyllah is glad that some attention is coming to the local community and Sierra Leone as a country. With elections in Sierra Leone next June, he wants people to be informed.
"Hopefully he's shining a light on Sierra Leone as a country and we need that," says Cyllah. "We got an election year coming up. I would like for people here to pay attention to what's going on there."
Meanwhile, Sesay says she's eager about what the future holds for Sierra Leoneans like her.
"I have big dreams for me to pass where I am right now," says Sesay. "Maybe this one will open doors, by the grace of God."
After 12 Cafe is located at 7523 Landover Rd Hyattsville, MD.