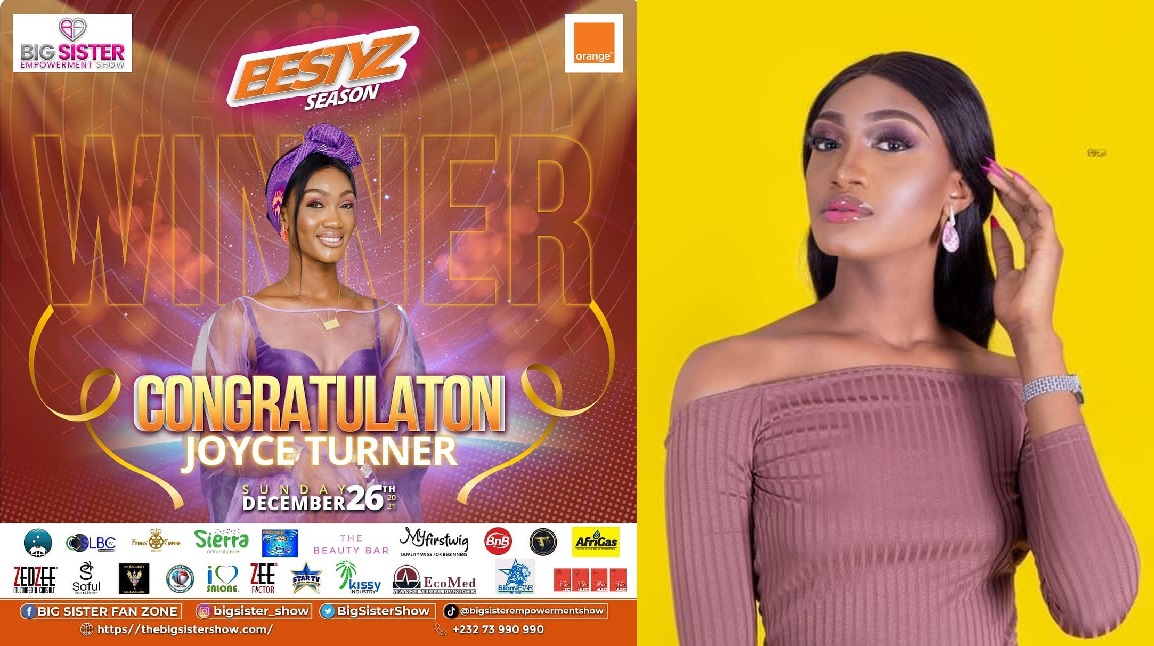 Joyce Turner Wins Big Sister Salone Season 3
23-year old Joyce Josephine Turner aka Team Grace Purple – Roommate #15 has been crowned Winner of the 2021 Big Sister Bestys Season 3 reality TV show last night at the Big Sister village in Sierra Leone.
Joyce beats co-finalists – Elsie and Joy in the Grand Finale to win a whopping Le 500,000,000 (Five Hundred Million Leones) star prize.After spending 8 weeks and 2 days in the Big Sister Village (from October 24 to December 26), Joyce Turner was the fans' favorite of the show.
A total of 24 women entered the Big Sister Village in the BESTYS SEASON, but only 3 made it to the finals.Elsie Kamara was crowned 1st Runner-up, while Joy Gborie was the 2nd Runner-up of the BESTYS SEASON.
The 2021 Big Sister Bestys Season 3 winner Joyce Josephine Turner is beauty queen, a model and an entrepreneur, with special hobbies in singing and dancing. She is currently studying Applied Accounting at the Institute of Public Administration and Management (IPAM). She is elegance with stunning beauty.
The Big Sister Bestys Season 3 has been a successful one. The show was full of education, drama and entertainment throughout the eight weeks. The organizers, Zedzee Multimedia Consult and partners have been up to the task with improved quality production and setups of the Big Sister Village.
CEO of the Big Sister show, Zainab Sheriff reiterates that "the show seeks to empower women and become self reliance in society." She also expresses satisfaction for staging a successful season 3 of Sierra Leone's best reality TV show, which speaks volumes of her consistency and perseverance.
Source: Vertex Media