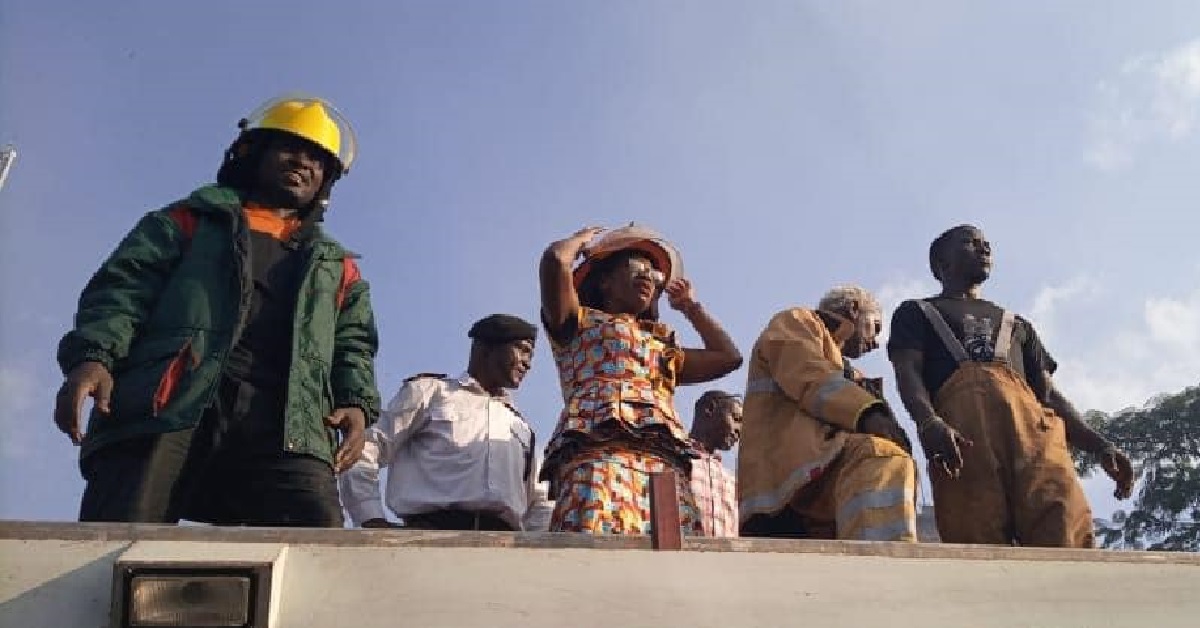 Mayor Yvonne Aki-Sawyerr Takes The Frontline at The Government Wharf Fire Outbreak
During the fire outbreak at Government Wharf, the Mayor of Freetown, Her Worship Yvonne Aki-Sawyerr was seen taking acting part along with Fire Force, Metropolitan Police and Sierra Leone Police.
As the fire incident occurred at Government Wharf which is about 40 metres to her office, the first role played by Her Worship after seeing the smoke was to call the National Fire Force Authority and informed them about the fire incident. Three fire force trucks came to the scene immediately.
Mayor was so conscious about the fuel tanker explosion that resulted to the death of hundreds Sierra Leoneans. In that light, she worked effectively with Metropolitan and Sierra Leone Police to evacuate the crowd from the scene.
Click here to watch the video of the fire outbreak
Another contribution made by Her Worship Yvonne Aki-Sawyerr was the provision of water from the Freetown City Council building. Three fire force trucks loaded with water came to the scene but due to the status of the fire, the water brought by the trucks was not sufficient to put the fire under control. Her worship instructed fire force to connect the pipe from the FCC building fire hydrant. This made the operation of fire force to become successful.
Furthermore, Her Worship also provided manpower support. Her councillors and Metropolitan Police were around the scene providing support to the fire force officers and the Sierra Leone police. The Commissioner; John Lassayo and Deputy Commissioner; Desmond B. Mash and others took active part in assisting fire force officers to control the pipe.
Sierraloaded, AYV Television and other media houses engaged Her Worship Yvonne Aki-Sawyerr. On her own side, she said the cause of the frequent fire disaster in the country is due to lack of proper planning. She added that FCC doesn't have the right to permit citizens to construct houses. Her Worship continued saying that, FCC will continue to engage and sensitize the public about fire disasters. She pleaded to the central government to construct fire hydrants around the country.
The fire outbreak occurred today 17th November, 2021 at Government Wharf in Freetown which resulted to one death and destruction of houses, properties, shops and businesses. The cause of the fire is yet to be confirmed but sources informed this medium that it was caused by a gas cooker.