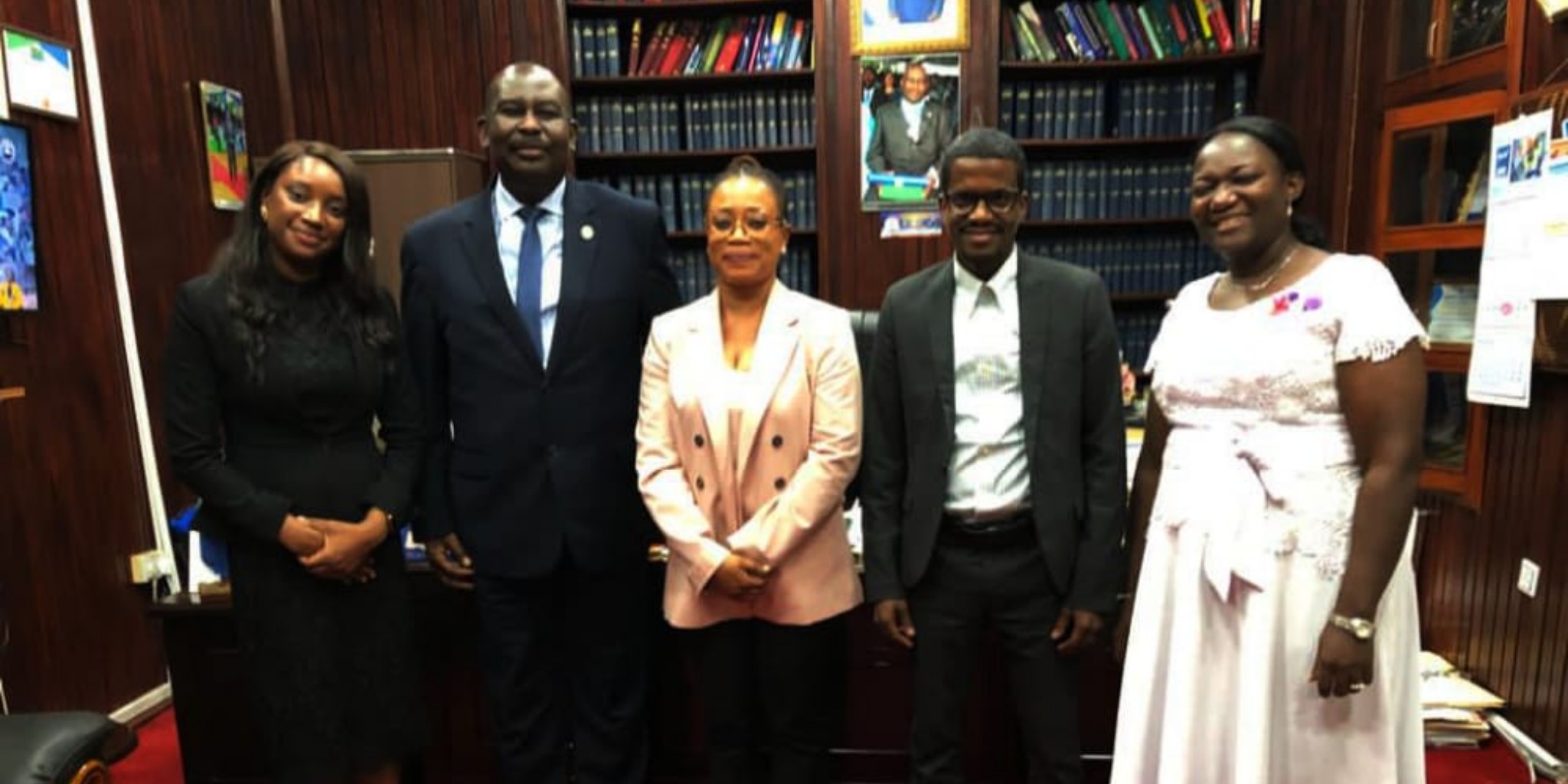 Orange Sierra Leone CEO, Sekou Amadou Bah Pays Courtesy Call on Chief Justice, Desmond Babatunde Edwards
The Chief Executive Officer (CEO) of Orange Sierra Leone, Sekou Amadou Bah, has paid a courtesy call on Sierra Leone's Chief Justice, Desmond Babatunde Edwards.
Briefing the Honourable Chief Justice on the purpose of the visit, Haffie Haffner, Barrister and Solicitor of Orange Sierra Leone Ltd. said since the company's new CEO took up office on the 1st of March 2022, he's been busy trying to settle down and also meet with the relevant stakeholders.
She said the new CEO is a Guinean by nationality and an Engineer by profession with wealth of experience in telecommunications, reiterating that Mr. Bah was previously the CEO of Orange Money in Guinea and the Democratic Republic of Congo.
In his statement, Mr. Sekou Amadou Bah said that he's learnt about the unflinching support the Judiciary has given to Orange over the years which, he assured, intends to maintain and even take it to an impressive height.
He said, "I have learnt about all the support you give to Orange and my commitment is to continue to strengthen that good relationship we have enjoyed with you and other relevant stakeholders. My commitment is to continue to invest as well as to continue to undertake our Corporate Social Responsibility activities."
In a bid to strengthen ties with the government of Sierra Leone, the CEO's first courtesy call was to the President, Dr. Julius Maada Bio.
While making his remarks, President Bio affirmed that his government commitment to work with the new CEO. Mr. Bah also revealed his commitment to accelerate digital transformation, social and financial inclusion in the country.
Welcoming the team, the Honourable Chief Justice, His Lordship Justice Desmond Babatunde Edwards assured them of Judiciary's support to the growth of the company.
"Orange is doing well in Sierra Leone and we'll always be there to support. We're hoping that we continue to work together for the good of the country and its citizens. We also welcome your Corporate Social Responsibility efforts in bringing in genuine investors to invest in different sectors," the Chief Justice added.
While he commended the CEO and his team for the visit, he encouraged the new leadership of Orange to take further steps higher than his predecessor in making Telecommunications better across the country.
Also part of the visiting team was Danette Younge, Barrister and Solicitor of Orange Sierra Leone.