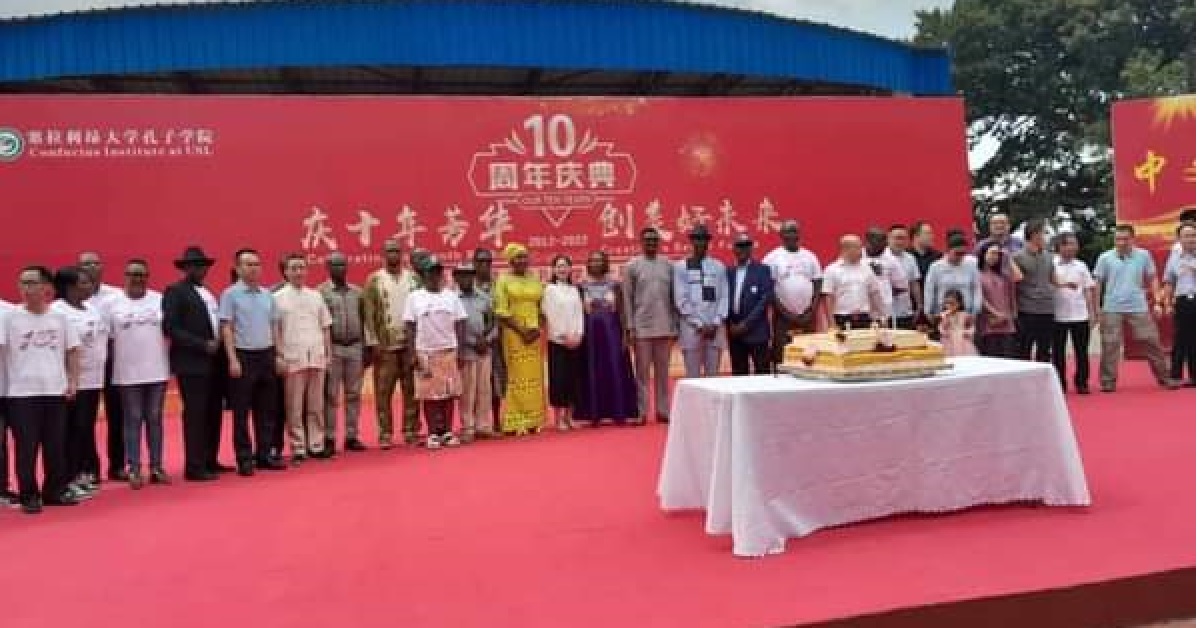 Confucius Institute Commemorates 10th Anniversary in Sierra Leone
The Confucius Institute at Fourah Bay College University of Sierra Leone has on Saturday 3rd December, 2022 commemorated its 10th anniversary celebration at an auspicious event held at the Fourah Bay College Amphitheater in Freetown.
Since 2012, the Institute has been running with assistance and support from the University of Sierra Leone, Gannan Normal University, and the Chinese Embassy in Sierra Leone.
Professor Jing Man, the Chinese director of the Confucius Institute, thanked and appreciated everyone who has helped the Institute over the years with its endeavors in her welcome speech.
Although there have been ups and downs since their establishment in 2012, she claimed that under the direction and management of Gannan Normal University and the University of Sierra Leone they have produced fruits and successes. She also stated that with support from all spheres of society, the Confucius Institute has continuously improved the condition of teaching and strived to improve the level of Chinese education in more than 20 sites across the nation, including universities, seconda
For the first time, they have established a teaching site outside Freetown at the University of Makeni. She noted that they started enrolling students for the BA honors in Chinese program in 2019 and that this year they have their first doctorate students in Chinese. In addition, Limkokwing University of Creative Technology has accepted Chinese as a core module for all year one students.
The Confucius Institute has fostered Chinese language and cultural education in the nation for ten years, serving as an excellent platform for cultural exchange, according to Sarjoh Aziz Kamara, deputy minister of technical and higher education.
He maintained that the celebration of the work of the Confucius Institute is an extension of the relationship between China and Sierra Leone, which has been strong for more than 50 years and has continued to grow via educational and cultural exchanges.
He also expressed his gratitude to the Chinese government for their tremendous efforts to support the development of human capital, particularly in light of the fact that China has sponsored more than 1000 Sierra Leonean students to study there and invited more than 5100 of their friends from all walks of life for short-term training programs.
As a Ministry, they are pleased to see the partnership between the University of Sierra Leone and the Confucius Institute as they provide students with the opportunity to learn and understand the Chinese language and become internationally competitive and for ten years, the Minister stated that China has been crucial to the development of the Country during the civil war, Ebola crisis, and COVID-19
In his closing remarks, he expressed gratitude to the directors, lecturers, and Chinese government for their friendship.
The National Commission for Basic Education's Executive Secretary, Dr. Despite all the COVID-19 disruption, Josephine Oladipo believes the 10th anniversary celebration is significant for Sierra Leone – China relationship.
According to her, Sierra Leone and China have grown closer not only in terms of education but also in terms of culture, particularly language. Studying one another's cultures will help the two nations become much more accepting of one another's differences, and with cooperative efforts in education, they will succeed in establishing a stronger China-Sierra Leone community with a shared future.
Scholarships for Sierra Leoneans to study Chinese language and culture, she claimed, will strengthen bilateral ties between the two nations because it has been demonstrated that learning one another's languages and cultures is the best way to improve friendship and communication. As a result, it will encourage educational cooperation and cultural exchange as well as making positive changes.