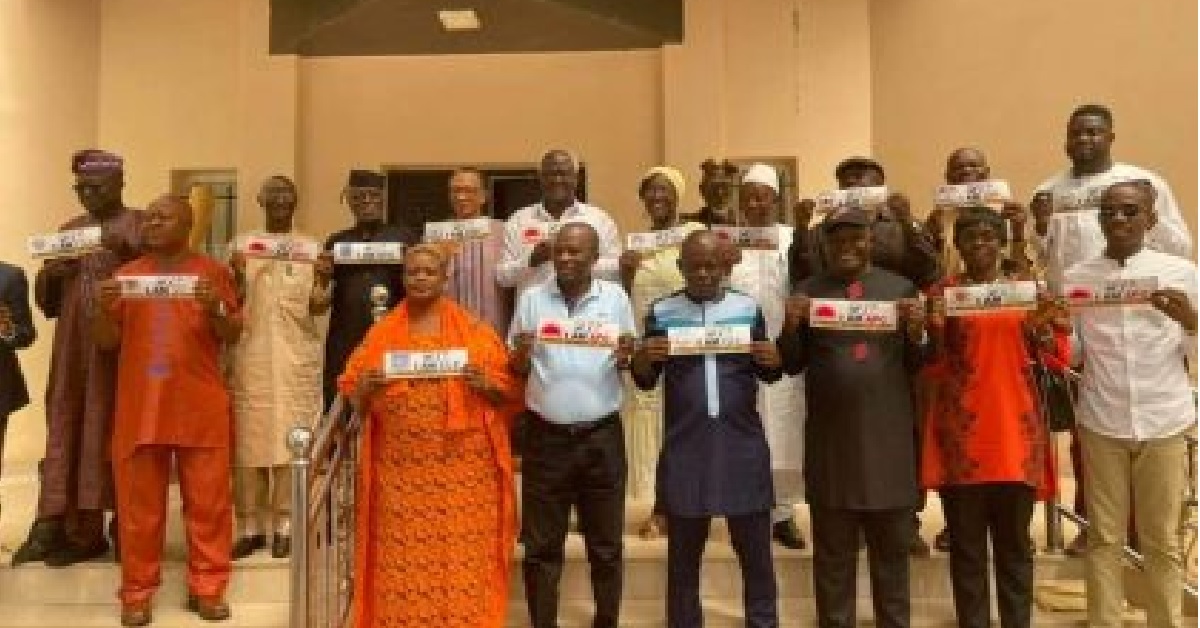 Coppp Engages Journalists on ongoing Voter Registration Process
The Consortium of Progressive Political Parties (CoPPP) has on Friday 16th September,2022 engaged journalists on the ongoing voter registration process in Sierra Leone at the Kings Palace Hall, Wellington Street, Freetown.
During the briefing, Dr. Richard Conteh from the All Peoples Congress party (APC) said that Sierra Leone's democracy is under threat and they as a consortium it is their responsibility to stand against such act.
He said that as they are representing different political parties, they also have great responsibilities in making sure that no body undermined the Sierra Leone's democracy.
According to him, the ongoing voter registration is not credible, free, fair and it is never transparent, adding this is currently undermining democracy of Sierra Leone.
He added that the staff are not properly trained, and the machines and software that the Electoral Commission Sierra Leone (ECSL) is using are faulty.
Conteh ended by saying that this process has prevented the first time voters and others not to participate in the June 2023 general elections.
Hon. Abdul Kargbo Interim Secretary general for the APC Intrem Transition Governance Committee said that he is very happy with the theme; "No eligible voter left behind", adding that Parliament is the supreme legislative authority to make laws in Sierra Leone.
He said before the commencement of the voter registration exercise, Parliament had enacted the National Public Election Act 2022, and it clearly stated that if you have reached to the age of 18, a
Sierra Leonean by nationality and well sounded person, with a birth certificate and other authentic documents and testimony of a member of a local council makes an individual eligible to register.
Kargbo said that he has been receiving several complains from different people as well as his constituency, complaining that ECSL is underminding the election laws that has been made by parliament, adding that if ECSL wants to regulate such Act, they should go back in parliament for amendment.
He said this issues has undermined the country's democracy and it has never been an election in Sierra Leone that has deprived people to register.
He therefore called on the government and ECSL to allow people to register and determine how they can vote for in the 2023 general elections.
Madam Femi Claudious Cole, the Chairperson of the Consortium said that they would like to commend the extraordinary enthusiasm demonstrated, efforts and Sacrifices made so far by citizens all over the country to register so that they can vote in the forthcoming general elections.
"We do acknowledge and respect the commitment of the ECSL in setting up the necessary struotures for voter registration across the country. In addition to mobilizing our people to go out and register, our parties have also been monitoring the conduct of the registration and we have some serious concerns over some aspecis of the exercise and we would like ECSL and other related bodies to act promptly on these issues as We advance into Phase ll of the process," she explained.
Madam Cole continued that for the first-time Voters, Section 24(1) of the 2022 Public Elections Act clearly states that: a Registralion Officer may, in satisfying himself that a person is entiled to be registered as a voter, reguest from the person any of the following" A birth certificate or other such document isued under the authorty of an enactment, A naturalisation certificate, testimony of member of the Local council in the area of his residence, a national identification number, a statutory dectaration giving particulars of a person's birth and Any other satisfactory evidence of the person's entutuement to be register as voter.
According to her, the ECSL has now decided that only original birth certificates would now be accepted at ECSL registration centers because of some issues relating to fraudulent registrants, fake birth certificates and potentially unreliable verifications.
The chairperson expressed concerned that ECSL has restricted all of this and therefore it has prevented thousands of eligible Sierra Leone not to register on the ongoing voter registration process, adding that has undermined the credibility, transparency free and fair registration.
She concluded by calling on parliament to invite the ECSL to discuss all the anomalies and compiaints coming from potential voters, investigate the issue of faulty machines and procurement lapses, ECSL to commits to a policy of "No eligible voter left behind" and meeting with political parties liaison committee to hear reports from them about the registration process.