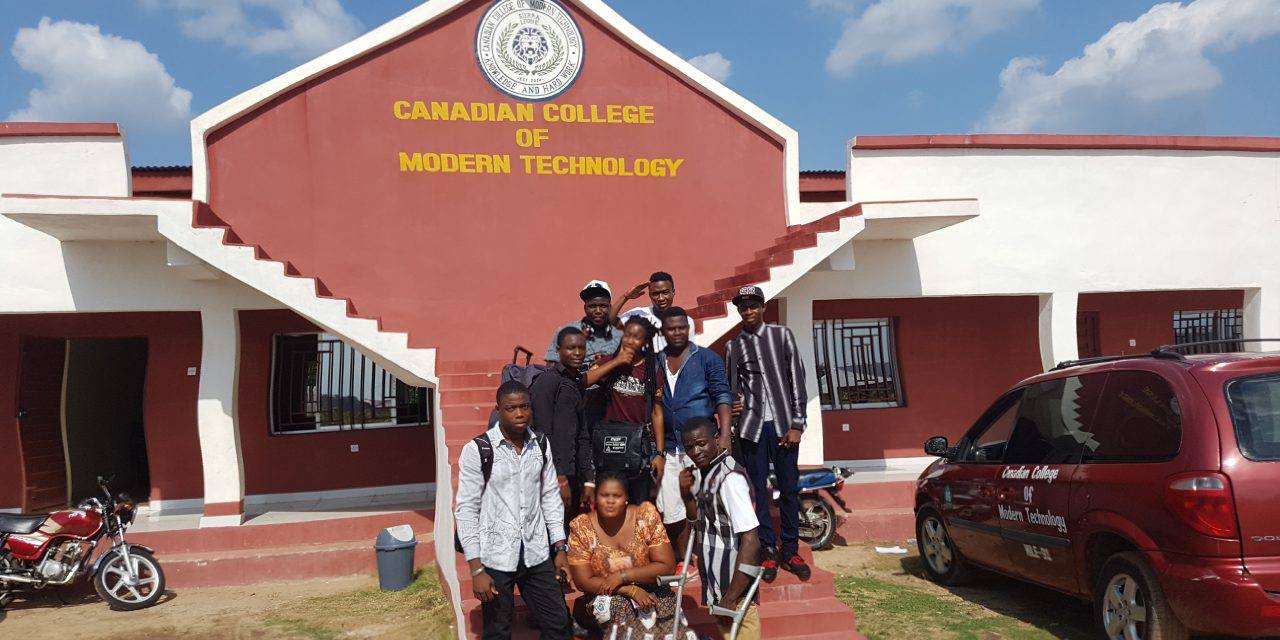 CUMT Admits First Set of University Students, Graces Top Notch Matriculation Ceremony
The Canadian University of Modern Technology (CUMT) which has recently been inaugurated as a full time Grade A University in Sierra Leone has conducted a grand matriculation ceremony for its first set of university students.
The ceremony took place at the Mile 91 campus and it attracted hundreds of parents and community personalities.
Welcoming students that were in jubilant moods, President Elect, CUMT Students' Union, Mohamed Deen Bangura expressed delight and welcomed the new CUMT students. He encouraged students to be focused in their studies and to see that they match societal expectations.
CUMT'S Director of Academic Affairs, Hamid Milton Mansaray disclosed that the new students should make a good use of the opportunities that the university provides. He said that CUMT prides itself as a centre of admiration and excellence and that all efforts were to be made to protect the good image of the institution. He also said that students must at all times obey the university's code of ethics and conduct.
Director of Students' Affairs, Zoe Cooper admonished the new CUMT students to always be law abiding. She added that the campus provides many positives and called on all students to make a judicious usage of same. She furthered that the new students were expected to understand their new study environment and to see that they better comprehend inevitable challenges and strategize to adequately address same. She said that CUMT is a reputable place of learning and that management and staff are always ready to do things that guarantee institutional aims and aspirations.
The Administration of Oath to the new students was done by CUMT'S Registrar, Adam Goguen. He further presented the new students to the Vice Chancellor and admonished that such was in line with university policy, noting that it'd be the responsibility of the Deans and the VC to graduate students. The Registrar also informed that the CUMT campus has a lot of facilities that students can make use of.
Receiving the new students and explaining related norms of his tailored vision for the students and the University, the distinguished Vice Chancellor of the Canadian University of Modern Technology, Professor Allyson A. Sesay stated that he was happy to have the new students. He said that the students were to consider themselves lucky as the first set of students since CUMT became a Class A University.
VC Allyson encouraged students to be industrious and virtuous in their studies. He said that CUMT frowns at all forms of examination malpractices, adding that it was better for students to make honorable Cs and Bs, than to get unmerited As. He said that society provides a lot of opportunities and that students should be willing to go through the right means to better themselves and society by extension.
The VC added that the management and staff of CUMT are committed to improving standards of the university. He also said that with standard initiatives, the university will continue to trend on a trajectory that'd be appreciated by all and sundry.
In his remarks, the Proprietor and Chancellor of CUMT, Mr. Muckson Sesay Snr said that he was happy to receive the new CUMT students and admonished all of them to be focused and committed in their studies.
The Chancellor also spoke on the need for the new students to avoid all cultism related matters. He said that their were student friendly groups that the new students could join so as to add up to their social interaction aspects, on and off campus. He said that CUMT has a zero tolerance for and towards cultism and therefore asked all the new students not to follow such paths.
The CUMT Chancellor also spoke on how a lot of good news will continue to make the agenda at CUMT and encouraged all and sundry to continue to act professionally and responsibly in the execution of tasks and functions/duties.
The CUMT Choir graced the occasion by performing the melodious CUMT song. A Year 1 CUMT Mass Communication Student, Janet Sam Cobba did the vote of thanks, much to the admiration of all and sundry.
The matriculation ceremony officially ended with the signing of Departmental Registers. In attendance were hundreds of cheerful parents and guardians and the administration and staff of CUMT.