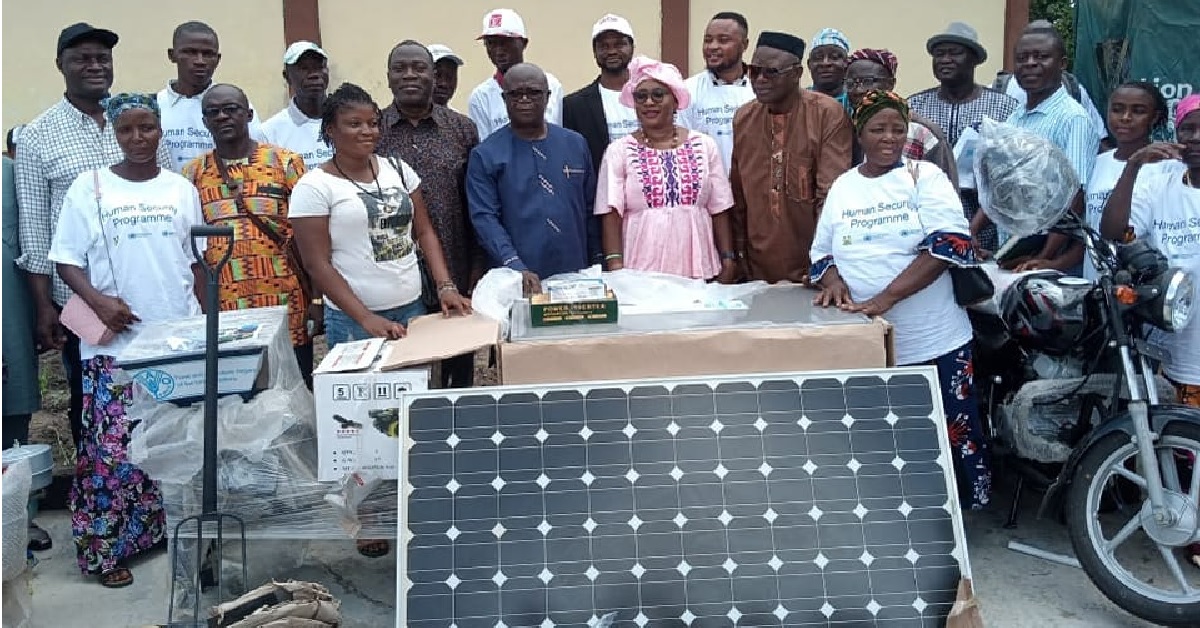 Farmers in Kono Boosted With Farm Implements by Local Government Ministry, UNDP and FAO
The leadership of the Ministry of Local Government and Rural Development (MLGRD) including the Minister, Amb. Tamba Lamina and his Deputy, Melrose Karminty, in collaboration with the United Nations Development Program (UNDP) and the Food and Agriculture Organization (FAO) have officially handed over farm tools to the Soa, Gbense and Kamara Chiefdoms in the Kono District.
"In 2020, we went to the Gambia with other countries on this human security program. During the meeting, we were informed that funds were available for countries to implement based on applications. The Government of Sierra Leone through the Local Government Ministry collaborated with UNDP and FAO to develop a convincing concept note and filed in the application which eventually made us one of the beneficiaries of the said funds," Minister Amb. Lamina explained while disclosing that it was after that process the UNDP and FAO collaborated with other local Non-Governmental Organizations including SEND Foundation, Fambul Tok, amongst others to implement the project in the three named Chiefdoms in Kono District.
He maintained that the facilitation and the implementation of the said project was inline with President Bio's Human Capital Investment's dream for Sierra Leone, and that he was pleased with the testimonies from the beneficiaries about the progress and positive impact of the project on them.
He urged the three Chiefdoms (Soa, Gbense and Kamara) to continue to take ownership of the project and use the farm implements wisely, adding that it's good that residents of Kono District have started embracing agriculture and other livelihood rather than Diamond Mining alone which has an expiring period as it was once observed by President Bio during one of his visits to that part of the country.
He ended up assuring his Ministry's commitment in providing effective monitoring and supervision roles for the project and thanking the UNDP, FAO and other partners for their tireless efforts in the successful implementation of same.
In his remarks, the UNDP's Resident Coordinator for Sierra Leone, Dr. Babatunde Alhonsi, stated that the project was about peace and development which could be best described as a two-sided coin where in one cannot go without the other.
He asserted that no one would ever succeed in bringing development to community where there is no peace, and that it's equally very difficult to maintain peace where there is no development, adding that it was on that note that they identified and collaborated with different players that would achieve the peace and development agenda.
He encouraged the beneficiaries to use inclusive approach where the young, women and physically challenged will have their say, as that would ensure the sustainability of the project.
Other stakeholders made meaningful contributions during the ceremony before the symbolic presentations of the farm implements to the deserved beneficiaries.