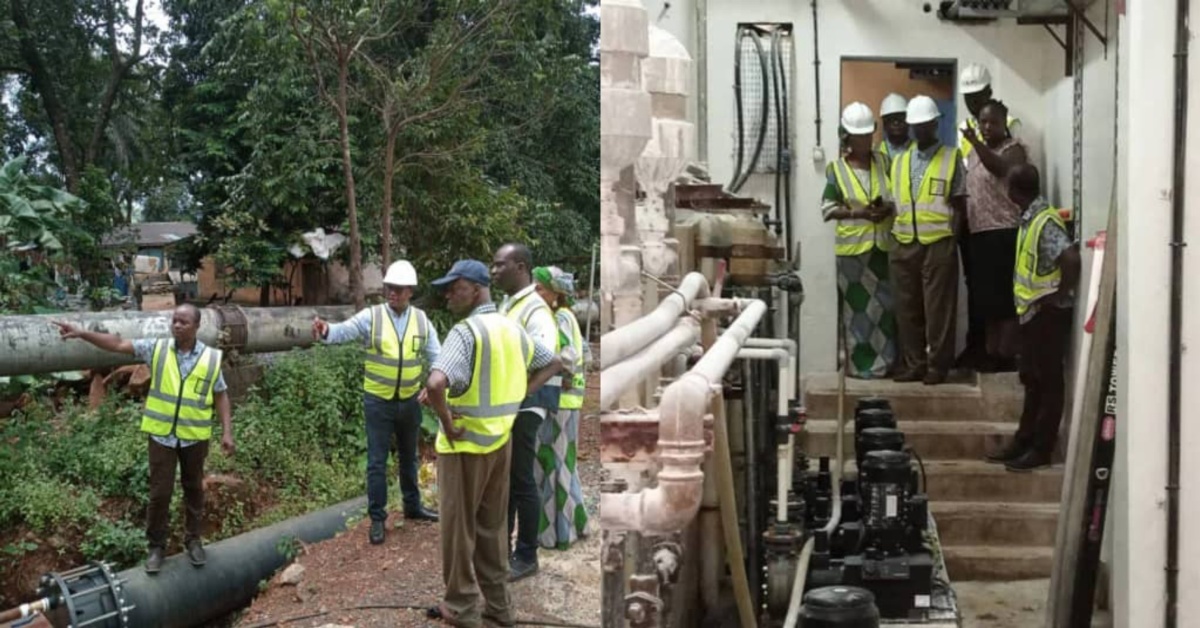 Guma Board Inspects Pipeline Works at Lakka
The Board of Directors of the Guma Valley Water Company on Wednesday 28th September 2022 undertook an inspection tour of the pipe laying works currently ongoing at Lakka Village.
The 45 km pipeline work is one of the activities under the Angola Town Water Supply Project that will benefit communities such as Lakka, Ogoo Farm, Adonkia, and Hamilton with improved water supply when completed in 20 months.
The objective of the visit was to assess the progress made so far on the pipeline works and also determine the state of preparedness of the Contractor, China Henan International Corporation Group (CHICO) to implement the various components under the project.
The Chairman, Board Technical Committee, Ing. Alhaji Mohamed B.A. Timbo advised CHICO to strictly adhere to the project design plans and work within the project timelines. Ing. Timbo also encouraged the contractor to employ local labor where possible and to be holding regular engagements with the beneficiary communities.
A member of the Board, Director Peter J. Amara requested CHICO to ensure that it does a quality job that will be sustainable for the current and future generations.
Responding, Lui Xiaojin, Project Manager for CHICO said they usually engage the communities two weeks before the commencement of any work they want to undertake. He said they are well capacitated to carry out site investigations, surveys, engineering design, supply, and construction of the proposed Angola Town Water Supply System.
On challenges, Mr. Xiaojin said the issue of compensation and relocation of Project Affected Persons should be handled amicably for smooth implementation of the project works.
The next stop on the Board's itinerary was the CHICO campsite at Mambo where they inspected the pipes, fittings, and other construction materials procured for the project works.
The Board inspection tour was concluded by a visit to the Guma Treatment Plant at Mile 13, where they were briefed by Ing. Bernadette Kargbo on the rehabilitation and replacement of major infrastructural components at the Guma Dam, Treatment Plant, laying of 3.2km of new transmission pipeline from Mile 13 to Hamilton and replacement of pumps and fittings at the Spur Road Reservoir under the just completed Freetown Water Supply Rehabilitation project that was sponsored by the Foreign Commonwealth Development Office (FCDO).