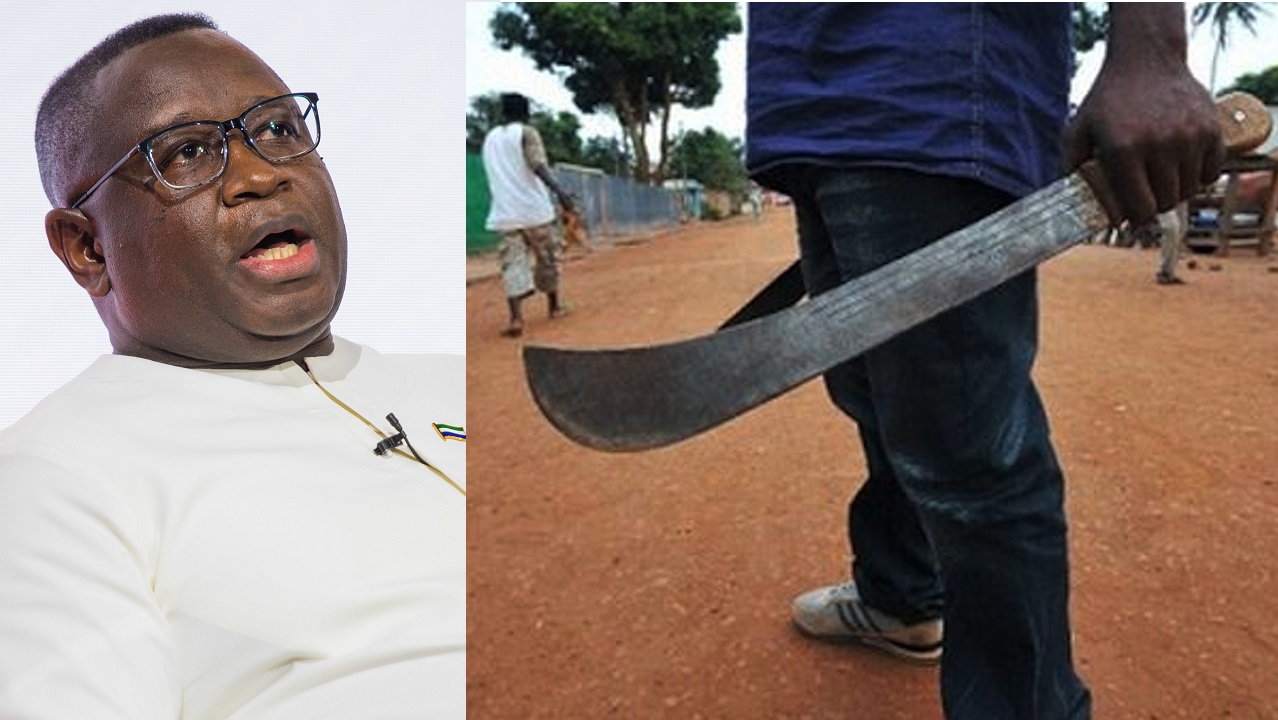 Man Remanded After Storming State Avenue With Cutlass Allegedly Wanting to Kill President Bio
After he appeared with Islamic attire at State House declaring that he wants to kill President Bio, Mohamed Massaquoi was yesterday arraigned before Magistrate Sahr Kekura at the Pademba Road Court No. 1 with regards the allegation and was remanded in custody.
Awoko reports that the accused, Massaquoi was before the Court on two count charges of carrying offensive weapon and disorderly behavior contrary to section 12 of the Public Order Act No. 46 of 1965 as replaced and repealed by section 12(a) of Act No. 25 of 2973. However, he pleaded not guilty.
According to the indictment, the accused, Massaquoi, on Wednesday 22nd September 2021 at State Avenue was found carrying an offensive weapon to wit machete, demanding for the head of the president.
Police also alleged that the accused was found behaving in a disorderly manner.
First prosecution witness police Constable 367783 Mohamed Osman Kamara attached to the Law Court Building recognized the accused person in the dock.
He recalled that on Wednesday 22nd September 2021, he was on duty at the main gate of Law Court Building at around 9:30am in the morning when the accused who was dressed in Islamic attire surfaced towards State Avenue, holding a machete with "tasbir" shouting "Allah Huwakbarr."
When he was interrogated by some police guards at the State Avenue, the accused responded by asking the officers that between God and President Bio whom do they believe, but the witness said they didn't respond to his question.
The witness furthered that the accused told them that he was a King that was sent to liberate the country, adding that he was going to State House to kill President Bio.
Testifying further, the witness said the accused continued reciting "Allah Huwakbarr". He said two military officers approached and advised him to go backward, but he refused saying he did not come to them. He further threatened to chop off the head of anyone that may confront him.
At this point, the witness said he and his colleagues requested for the cutlass but he refused to hand it over. The witness added that they made swift effort to disarm the accused and handed him to the Criminal Investigations Department (CID) for interrogation.
At the end of the witness testimony, defense counsel I.S.Y. Kamara requested for bail for his client. He canvassed his bail plea on Section 79 of the Criminal Procedure Act No. 32 of 1965.
The prosecution did not put forward any affidavit in opposition to bail, but Magistrate Sahr Kekura remanded the accused and he adjourned the matter to the 5th October 2021.