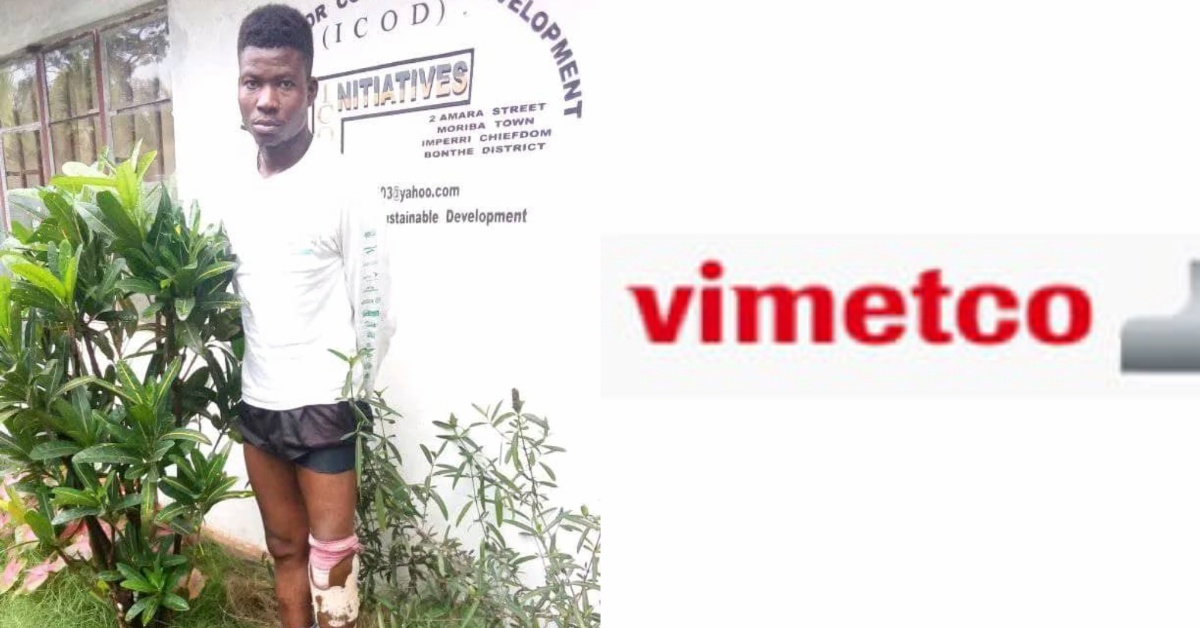 Negligence of Vimetco Company is Taking an Innocent Sierra Leonean to His Grave
Following to an incident that occured few years back around 2012, the victim of the car accident name Baimba Jallohs pleads with the Vimetco Company to compensate his damage.
According to our sources, it could be recalled that in 2012, one Vimetco mining company vehicles hit and broke the left foot of one Baimba Jalloh along Mogbomo, Gbangbatoke highway. Our sources continued that after the incident, the company provided some medical treatment to the said victim on a short term.
After spending few weeks in the hospital, Baimba Jalloh was discharged from the Emergency surgical hospital in Freetown. Since his discharged from the hospital, the mining company abandoned the victim and paid no more attention to his health conditions till date. In his present physical and emotional strength, Baimba Jalloh is traumatized and helpless and his health condition keeps deteriorating every now and then as a result of Vimetco mining company's negligence.
Further revealing details of the event, the said victim, Baimba Jalloh said he had within his power called on the management of the company on several occasions to rescue his health condition and save his life from the pain and trauma but none of his effort was worth it.
The Paralegal and focal person of Legal Aid Board Sierra Leone, lower Banta and imperi chiefdom, Julian Gina Kpanabom had also got in touch with some senior management authorities and they assure Julian to help the victim but never showed up.
"..I had got in touch with the senior management authorities and they assumed me to help the victim but till now, none of their promises has been fulfilled…" Julian Gina Kpanabom disclosed.
It is heartening for a Multi-million mining company like Vimetco mining company to make promises that involves an innocent life at stake without fulfilling any over the past years and yet the victim is in pain.
Baimba Jalloh who has no power to fight the company despite being the victim suffering the pain over these years since 2012 continues to call and plead on authorities within the chiefdom, the Paramount Chief Jibao Russell Nyama II and any other philanthropist who values humanity to step in and rescue his life condition inorder not to die of neglect.
Philanthropists and humanitarians wishing you help this man can reach the following numbers for further information.
Vimetco Holdings – one of the largest Aluminium producers in the world and has been supplying its parent holdings i.e. Alum its raw material for a production activity that brings out quality production of Aluminium to supply the global market. The company is Multi-million mining company that has many subsidiaries including Sierra Mineral Holdings1 (SMHL).
---
Contact Details 
078137220
090137220