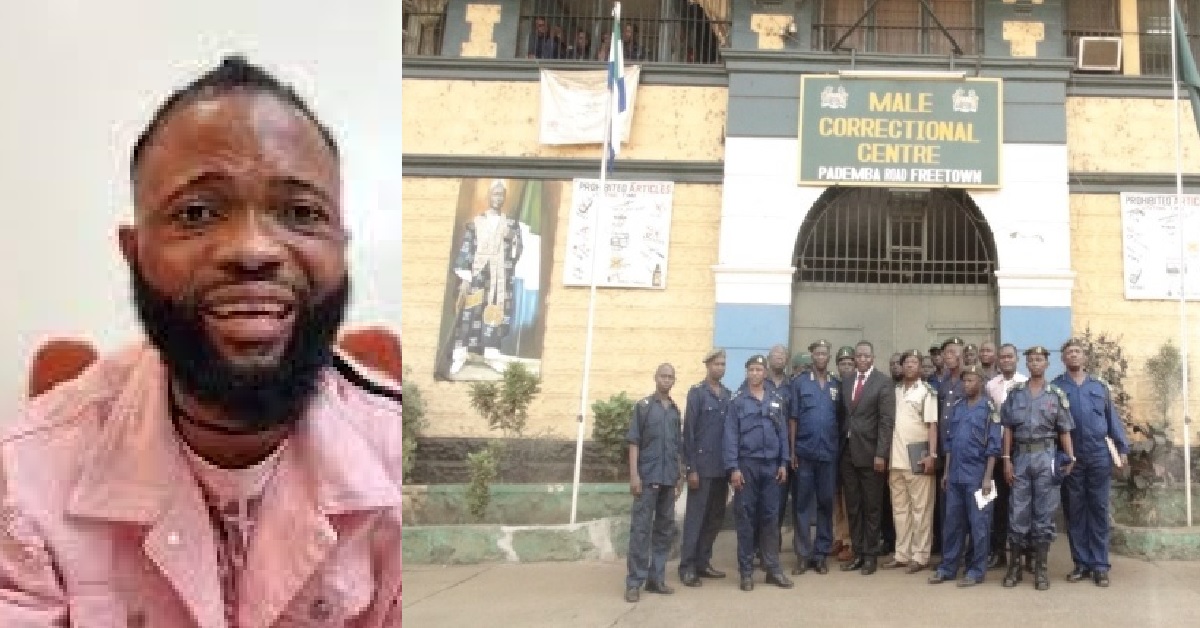 Reflecting on The High Court Verdict of LAC And G-Fag in 2016
According to Awoko Newspaper, Baimba Moi Foray (alias LA Chocolate) and Foday Amara Kamara (alias G-Fag) were on Thursday sentenced to death by hanging after the panel of 12 Jurors found them guilty on two counts of conspiracy to murder and murder, while 3rd accused Avril Orehdola Renner (Oreh) was acquitted and discharged in the murder of Sydney David Buckle alias DJ Cleff.
According to the Forman LAC and Foday Amara Kamara alias G-Fag were found guilty on both counts because of circumstantial evidences and witnesses adduced in Court that linked both accused to the murder of DJ Cleff but however no evidences were linked with the 3rd accused Oreh.
Before the verdict, presiding Judge Alusine Sesay gave five hours thorough summon and analyses of the evidences highlighting keys areas of significance that linked LAC and G-Fag to the murder of DJ Cleff stating that prosecution relied on circumstantial evidence.
"Circumstantial evidence is good and has weight as direct evidence to incriminate anyone. It is evidence of relevant facts which work cumulatively in a geometrical progression to fuse all possibilities of facts. It is not all cases that have to be proven with direct evidence'. Justice Sesay noted.
Justice Sesay informed the Jurors that according to the 17 witnesses and 26 exhibits before the court are circumstantial evidences that link directly to the 1st and 2nd accused and their behaviors during the period of the incident indicated that they are guilty of the crime.
He furthered that the inconsistency in the statement of the accused and failure of defence to provide a solid alibi formed strong evidence against them.
The Judge also mentioned that the missing items from LAC's house cannot be a coincidence to be found with the deceased when it was discovered at Murray Town cemetery and also the doctors reports when the corpse was exhumed stated that the deceased died of unnatural death with part of his body severed connecting it to ritual murder.
'These are tangible evidences and Jurors should look into the coincidence of the missing items found with the deceased and these items including a brown car dust cover, yellow nylon ropes and brown carpet was claimed to have belonged to LAC by his security guard'.
Justice Alusine also questioned the behavior of 2nd accused Foday Amara Kamara alias G-Fag 'Why was he in hiding, why did he destroy his sim cards. His behavior indicated that he was hiding and destroying evidences.' witnesses testified in Court said that it was G-Fag who lured them to meet LAC privately at his Gym during the party and also cautioned them not to inform or mention their meet to anyone but the witnesses said they refused to obliged to the call.
'G-Fag was the one that stopped the party goers from entering into the main house and also stop the security guard from entering into the premises after the party to cause a diversion'.
After his summary Justice Sesay cautioned the Jurors to look into the evidences and the accused separately and diligently emphasizing that they should dispense justice with a clear mind and conscience that will favor both accused and the deceased. 'Justice must be a two edge sword' he maintained.
Dressed in brown Gucci Jacket and shorts LAC was seen praying before his verdict while G-Fag sat quietly awaiting his fate and Oreh holding on to a small bible as if her life depended on it.
The atmosphere was tense as the court room was jammed packed with families of both the accused and deceased together with high turnout of artist to witness the trial.
LAC was asked for a mitigation plea and he said 'I'm not guilty of the crime and I'm not satisfied with the justice. I know one of the Jurors did not convict me. I plead for mercy because I've never done this before. I have right to appeal because I'm not guilty, may the will of God be done'.
Justice Alusine Sesay announced the conviction of the accused stating that for conspiracy both accused are sentenced to 25yrs imprisonment and for murder they are sentenced to death by hanging noting that murder is a substantive offence and its constitutional penalty is death.
However defence counsel for both LAC and G-Fag said they will appeal within 21 days because they are not satisfied with the verdict.
DJ Clef's mother and father, Victoria Johnson and Sydney David Buckle Snr. expressed their satisfaction over the verdict stating that justice has been served diligently.