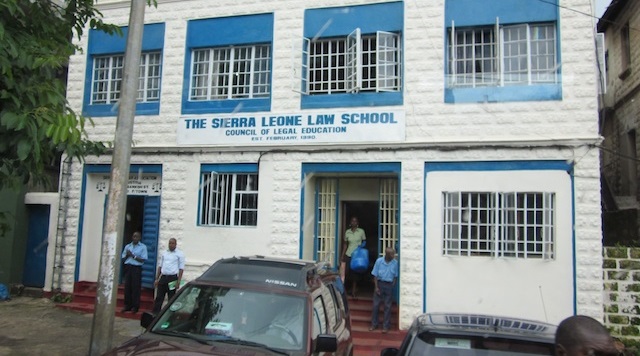 Sierra Leone Government Makes U-Turn on Establishing New Law Schools
Sierra Leone's Deputy Minister of Justice, Umaru Napoleon has said that the Bill proposed to establish new law schools in the country will be withdrawn.
Napoleon said that there will be only one Law School with satellite campuses.
He said this after the Sierra Leone Bar Association on Monday 16 July, 2021 called for a reconsideration of a Bill meant to establish two new law schools in the country. This came following the publication of the Bill from the office of the Attorney-General and Minister of Justice.
The new Bill entitled "THE COUNCIL OF EDUCATION (AMENDMENT) ACT, 2021" seeks to amend the Council of Education Act of 1989 to provide for the establishment of Njala University Law School and the University of Makeni Law School and to provide for representation of Njala University and Makeni University in the Council of Legal Education.
SLBA, in their notice, mentioned that the Bill is not a product of wider consultations, adding that neither SLBA nor the General Legal Council was intimated about it. SLBA noted that while there is urgent need to restructure legal education in Sierra Leone, the process of restructuring ought to be consultative.
On the need for new law schools, SLBA stated that it is untimely to establish new law schools, particularly when the only Law School in the country continues to face oversight, government subvention and infrastructure challenges.
SLBA also maintained that the proposal to include Njala University and University of Mekeni in the Council of Legal Education will create an unnecessary expansion of the Council of Legal Education. "We do not believe that it is the best practice for every university which offers law degree to be included in the Council of Legal Education," SLBA indicated.
SLBA stated that they are concerned that Njala University and the University of Makeni may not have the capacity to provide the required legal training and supervision and such undermine the academic standards required to provide professional legal training in Sierra Leone.