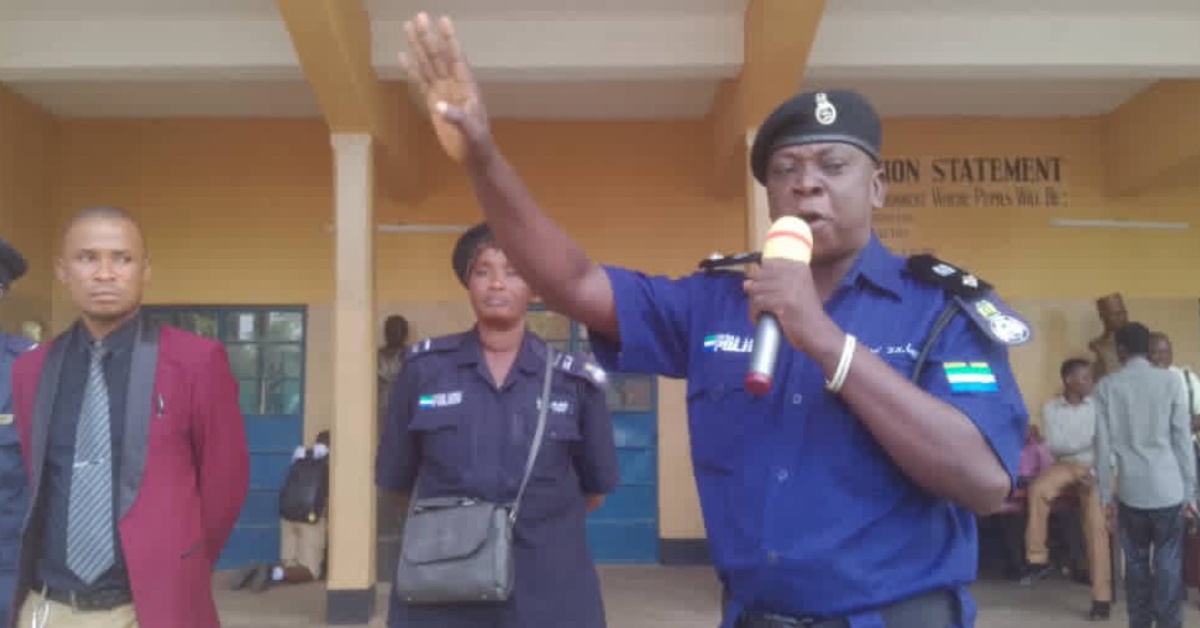 Sierra Leone Police Takes Peace Sensitization to Bo Government Senior Secondary School
Sensitization is a non-associative learning process in which repeated administration of a stimulus results in the progressive amplification of a response. Sensitization often is characterized by an enhancement of response to a whole class of stimuli in addition to the one that is repeated.
Owning to the above, on Wednesday 28th September 2022, the Community Radiations Department in the Sierra Leone Police Force-Southern Region extended their peace sensitization messages to the Bo Government Senior Secondary School known as Bo School and implored them to be violence free as Sierra Leone approach the 2023 Elections era.
The team was led by Chief Superintendent of Police Mr. Michael JK Lagga who also served as the first speaker to the Pupils of Bo School lectures on "Crime" and how can one get his or herself involved in Crime known as "Involvement in Crime".
CSP Lagga illustrated before the pupils while admonishing them to be crime free on how one can unknowingly be involved in a crime as we now observed the 2023 Elections eve.
" I can see prospects in your faces and by extension, many of you are future leaders of Sierra Leone, so I encouraged you not to damage your career at child age", he said.
On his part, Detective Sub. Inspector Mustapha Gogra attached to the Family Support Unit oriented pupils on Sexual Related Offenses that are mostly committed by young school-going pupils ranging from "Sexual Touching, Penetration, Meeting a Child for Sexual Purposes" amongst others.
Deputy Sub. Inspector Lebbie attached to the Criminal Investigation Department said, riotous conduct frequenting when found in grey areas is normally committed by school-going pupils and is often investigated.
The Regional Coordinator CRD Inspector Francess Blake created the platform and further assured Bo School of their regular visitations.
Questions were later posed by the Bo School pupils to the SLP team and were adequately answered.