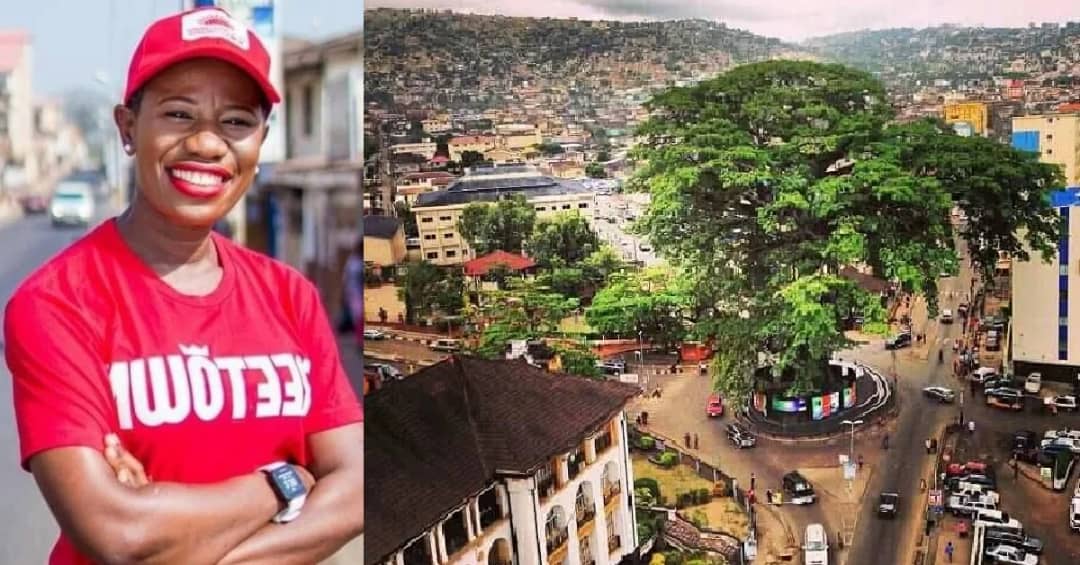 Mayor of Freetown, Yvonne Aki-Sawyerr Celebrates Four Years in Office
The Mayor of Freetown, Yvonne Aki-Sawyerr has on Wednesday 11 May 2022 celebrated her four years anniversary since sworn in as Mayor of Freetown.
She marked her four years anniversary with a video and message shared on social media highliging few of her achievements across the city of Freetown.
Mayor Aki-Sawyerr stated that, "Four years ago today, on 11th May 2018, I was sworn-in as the Mayor Of Freetown. I am grateful to God, to the APC party and to the great people of this city for giving me this opportunity to serve Feeetonians.
She noted that there are many challenges associated with public service, but noted that the privilege of making a difference in the lives of people and in the history of Freetown, has kept her motivated and committed to their collective ambition to Transform Freetown.
"Today, as I share this short video highlighting a few of the achievements of the past year, I truly believe that all success is a team effort. So I would like to thank the FCC Councillors, FCC Staff, our many partners and stakeholders at home and abroad, the central government and all Freetonians for your contributions to addressing the challenges that we face as a city," Mayor Aki-Sawyerr stated.
"There is still much to do but we have made significant progress as summarized in the video and detailed in the annually published #TransformFreetown Reports which can be found at www.fcc.gov.sl," she added.
Aki-Sawyerr further noted that the rapid growth of the city's population as rural to urban migration continues to increase, which means that the need for effective development control (land use planning, zoning and building permits) is even more pressing.
"I continue to appeal for the devolution of these functions to the local councils as provided for in the Local Government Act 2004 to ensure that we prevent the further deterioration of our urban space and protect the remaining natural environment," she stated.
Councillor Rugiatu hailed the project as it falls in her ward. She said she is so grateful for the fencing of the cemetery, building of the public toilet and office for the cemetery team and clerk.
According to the Keeper; Gibrilla Mami described the structure as a vital one as they will now have a place to keep their document safe as he narrated the incident of losing documents during rainy season. He added that, they as workers will also be safe from cold and other diseases. He continues saying that, the cemetery was used as an illegal dumpsite but with the help of Mayor, it was cleared. He hailed Mayor for doing a great job and called on Freetonians to pay their property rates, taxes, etc.
Mayor Yvonne Aki-Sawyerr also talked about FSM Plan at Kingtom dumpsite which is used to treat sludge to become less hazard to human health and environment.
According to Mr. Tamba John Sinnah; FSM Site Operations Manager from GOAL SL, he said the sludge was creating negative impact to residents and also polluting the environment when it is being discharged in gutters. When the trucks were discharging the sludge in gutters and other areas, it was having a negative impact on the environment. People were getting contaminated and got sick because of the disposal of sludge into gutters. According to him, that has reduced in the city and the illegal discharge of sludge in the city has reduced since they have got a treatment plant at Kingtom dumpsite.
Emmanuel Kargbo who is a resident of Kolleh Town Community explained how their community became affected when the plant was not installed and the changes it has made after its installation. According to him, the sludge was contaminating their environment including drinking water. He said since the plant was installed, things has become better.
Mr. Tamba added that, through the Mayor and donor partners like GOAL SL and DFID that came up with the initiative to develop and build this plant, has got a positive impact in Freetown. Since the plant was opened to date, we have treated 1,089 trucks of various capacities.
Mayor Yvonne Aki-Sawyerr also narrated the success that have made on education. She talked about the nursery schools at Congo Water and Kroo Town Road which her office created to help transform the lives of the children that are following their parents to the market.
We have done the nursery school in Congo Water market, now we are about to open the nursery school in Kroo Town Road market. This is what we called transforming lives when traders come to sell their businesses and their children are going to school.
A trader identified as Ramatu Bangura said that their children were missing daily and also, they were facing challenges to engage with customers due to the pressure they were getting from their children. "We were struggling to sell to our customers as our children were disturbing. We are happy that this nursery school is opened here because we are not struggling again." She stated.
Her Worship has also created impact on health as her office expanded Grey Bush PHU and reduced maternal mortality rate. "Grey Bush PHU. Health was the focus and what we have done to reduce maternal mortality, we were able to expand where pregnant women were giving birth."
Foday A Marrah; Community Health Officer said they were having only one post-natal and just one bed. He said because of that, they were only observing newly delivered mothers and their new born babies for just 1 hour instead of 48 hours to give space to others. "With the extension which they did and we really appreciate it, now we can observe them for 24 to 48 hours."
Check out video of the Mayor Aki-Sawyerr highlighting her achievements below 👇🏽