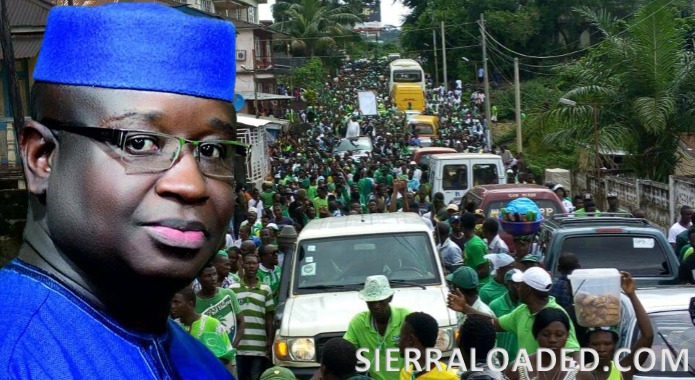 Bio May Betray SLPP
What will be the response of SLPP (Sierra Leone People's Party) when President Julius Maada Bio hands over staff of office to an APC (All People's Congress) President next year. Many Sierra Leoneans especially SLPP stalwarts will see this question funny, foolish and out of place, but it is packed with meaning.
Signs that Bio will not remain in the seat of presidency after 2023 elections have manifested themselves as coming events cast their shadows. Bio's repeated calls for free, fair and transparent elections is thought-provoking for those with wisdom.
When political leaders ride into the sunset, they assure their constituents of victory even when they are sure to lose. Most times, they do it in plain terms and sometimes use subtle means. They vary the language and diction depending on the audience they wanted to reach. They use profane or prosaic phrases frequently in the local parlance or languages to convince the tribes.
But, they employ condensed language and diplomatic tactics when they address the political and academic elites. President Julius Maada Bio is no difference. The President has urged the Electoral Commission of Sierra Leone to ensure a free, fair and credible elections when he was receiving ECSL's annual report. The President's call for credible elections means he could not, in no way, rig next year's election as Sierra Leoneans are ready to protect their votes this time.
They have tried and tested Bio's leadership, and they appear not ready again to embrace him for a second time. Calls for protection of votes have been made by several politicians including former President Ernest Bai Koroma. Few Months ago, the former President called on APC voters to prevent their votes from being stolen this time. This call is an insinuation that last year's election was a bit fraudulent as people widely believed that President Bio was not the actual winner of 2018 elections. The people's suspicion of a rogue electoral process was bolstered owing to the outcome of the 2018 elections. Bio who clinched the presidency had 49 seats while APC got close to 70 seats.
It is a sad history for APC for a political party in with a lesser number of seats to triumph over the one with more seats. The cancelation of a huge number of polling stations in Tonkolili district in northern Sierra Leone where APC got the highest votes is also an indication of fraud,
No polling station was canceled in SLPP's traditional strongholds of Kenema, Bo, kailahun, Pujehun among others. After the election's game has been played, and the presidency won, Bio is now calling for honest elections, a move that imputes betrayal on his part. Key politicians however differs a bit from the widely held notion of traitorship from the throne. An opposition politician has intimated this press that President Bio call. means a bow to Sierra Leoneans and the international community. As the elections fast approaching, Sierra Leoneans have resolved to vote out Bio and take back control of their lives and their future. For them, Bio is the problem for most of Sierra Leone's problems. One of them, a local activist, Ibrahim Bungura believes that Sierra Leone's hardship will be solved once Bio is voted out next year. "Bio alone is a punishment to this country," he told Nightwatch.
Surely, Bio will go after 2023 elections as the writing is on the wall to see Politicians from the two sides have repeatedly made it clear that Bio's future in next year's election is bleak. President Ernest Bai Koroma predicted months ago while addressing a crowd of APC supporters that Bio will go in 2023.
In another address, Koroma was blunt to say even if Bio employs all members of the Bio family at ECSL, he would not make it in the 2023 polls. The ex-president is highly critical of his successor for a lackluster and moribund leadership. Former President Koroma presents Bio as a man with no initiatives when he said early this year that "I see nothing new in Bio's administration."
The former President spoke about Bio's departure from power after a high profile close-door meeting with ambassadors and high commissioners. Although what was discussed during such meeting was a closely guarded secret, many have guessed that the discussion would not be far away from politics. From President Koroma's palace to the ECSL, Bio has no future there. When Mohamed Kenewui Konneh was appointed Chief Electoral Commissioner, many Sierra Leoneans hastily jumped into conclusion that
SLPP would make it again completely clueless of a third party in the drama. Sources say Konneh has been warned by the international community to conduct a credible and acceptable election in Sierra Leone. It is clear that the CEC has adhered to the warning.
The recent by-election in Samaia Bendugu and Koya chiefdom in Karena and PortLoko districts respectively are shinning signs that Konneh will not be used by Bio.
What goes around, comes around. APC was removed by Mohamed N'fa Alie Conteh although they appointed him. Conteh was mistaken for an APC sympathiser on his appointment. APC members had strongly hoped that Conteh will be errand boy for President Koroma in the elections. Their hopes were shattered When the elections that brought Bio to powerwere declared. APC members were helpless as Conteh exposed his true nature in the eleventh hour. Almost invariably, Konneh will soon tread on Contel's path.
SLPP would be taken aback when Konneh would declare an APC flag-bearer as winner next year.