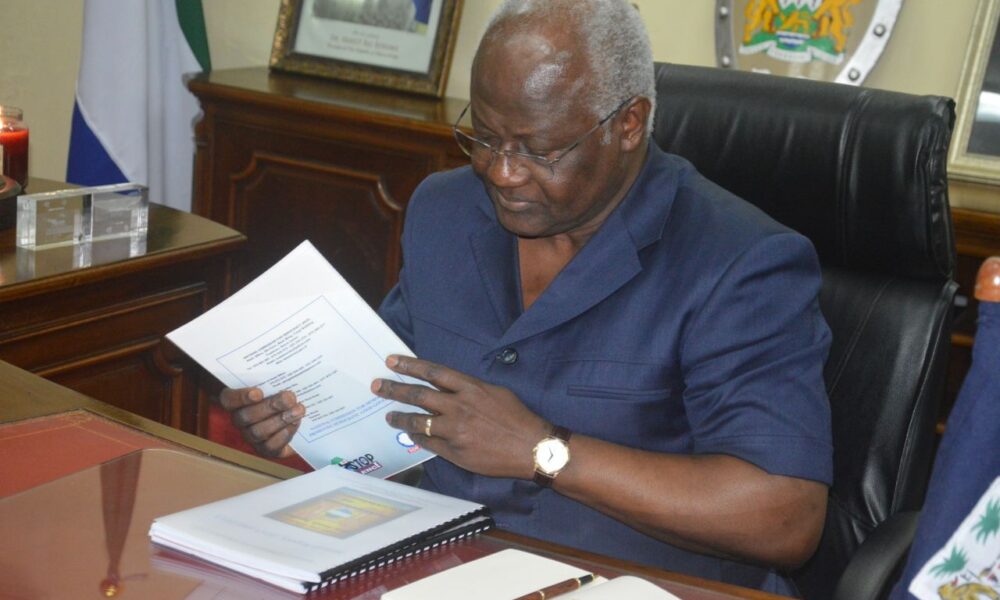 UNIMAK Student Writes President Koroma, Warns Him on Third Term Agenda
Dear Mr. President,
I am writing to you from the bottom of my heart and in the interest and love for our country, which you have had the privilege to lead for the last eight or so years. Your tenure as president will go down in the annals of our nation as the most memorable and inspirational.
Mr. President please do not believe or listen to the gang of sycophants telling you that you need "MORE TIME". I am pretty sure that you have done your duty or contributed your own quota in the nation building project in our country and to your God for our good.
I believe to be elected to the presidency of one's country is a rare honour and privilege that occurs to "A FEW GOOD MEN AND WOMEN" thus a sacred calling that never happens to lesser mortals.
Please do our county good by stepping down after your constitutional tenure, imposing yourself on our party and country will bring dishonour not only to you but our county and all of us who had once believe in you Mr. President, I may be labelled a frustrated man, a loner, a hustler or an attention seeker but my message if listened to may help hold our fragile country together and according to a Tembuka proverb from Zambia " An adviser is not a witch, a witch is the one who wants to be equal to you" but I am happy being a school teacher at the moment.
The banners on display I saw last Friday here in Makeni and reading the communique of the APC National youths League after their national delegate conference worried me. It spells doom, suffering and tragedy if given any consideration by Mr. President.
Mr President, when Congolese in former French colonial Congo last Sunday endorsed your colleague, 71 year old Denis Sassou Nguesso who has ruled his country for two slots totalling thirty one plus years by 96.96% for a third term and a constitutional amendment, I was not only embarrassed but angry as an African who has visited Congo Brazzaville and saw how poor his people are and how rich he is.
It is unfortunate that in the twenty first century, the most enlighten in the history of humanity Congo Kinshasa, Burundi, Rwanda and many more African States are all going towards that direction just like most did in the era of the one party in the 1980s. African leaders frog matched their peoples into one party regimes thus killing the economic vitality and potentials of their people and the West dubbed Africa in the 80s as the hopeless continent. Corruption, clientelism, autocracy and many social menace became the order of the time.
Mr. President, how is India ? I am pretty sure you saw how good governance and policies have transformed a people within one generation, even though she still has a lot of challenges like poverty and the gap between the rich and poor yet she is still one of the world's greatest democracies with no sit- tight leadership.
India now in the hand of a Hindu fanatic after many years of the Gandi dynasty. Sustained deliberate government policies have taken a few people out of extreme poverty without " a white elephant agenda for prosperity"
I was in Ghana recently where I witness M. P.s Moving into their brand new offices dubbed "JOB 600" a projected that was started by the late Dr. Kwame Nrumah in the 1960s and only completed by president Mahama. Ghana has a fourty year national development plan which they made into a Law not a government policy that is moving Ghana.
Mr. President, the slogan " Take Tem Tok" used by jobless, manipulated and misdirected Sierra Leoneans is scary for Sierra Leoneans who believe in a free and democratic country Mr. President, the clergy and laity of the Diocese of Makeni wish the titular bishop of Gandiaufala in Algeria " His Excellency Natale Paganelli " who will be consecrated in their cathedral this Saturday well and has been asked to Shepherd their diocese by His Holiness Pope Francis in his Episcopal watch.
Sincerely yours
Unisa P. Kamara ( UPK )
University of Makeni