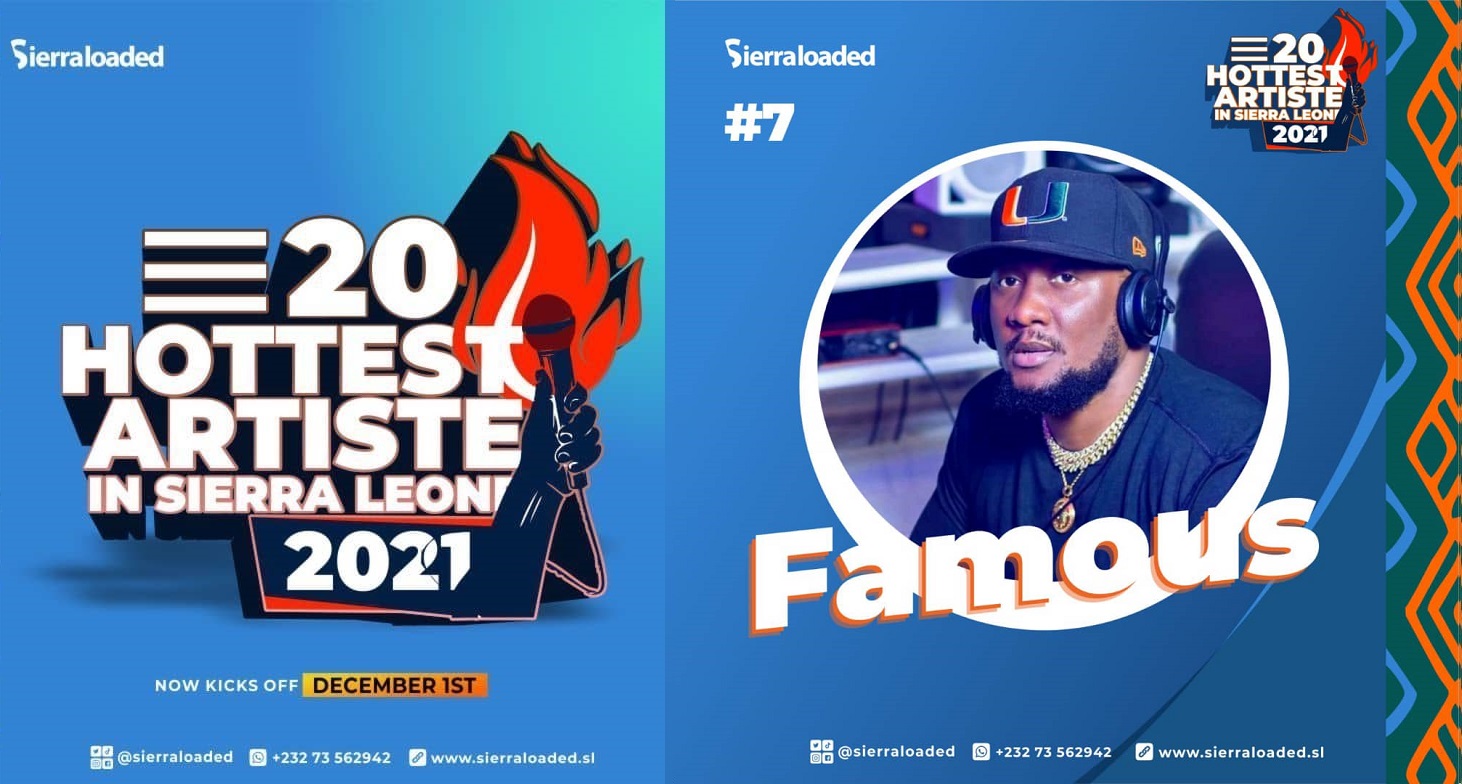 The 20 Hottest Artistes in Sierra Leone 2021: Famous – #7
Multitalented and prolific Singer, Fredrick Dapayee Peters who is popularly known as Famous is one of most revered Sierra Leonean musical talents who have consistently shown his propensity for crafting euphonious, classic songs since he came into limelight.
The Freetown based musical prodigy surges with a smooth flow of Afro-fusion magic with an awesome mix and blend of genres into Afrobeat, with his storytelling, a feel of his emotions and healing tunes to infuse hope and life into his listeners.
In 2021, Famous blessed us with his new "Winner" Album, a project whose lead single "Winner" has become a sensational and motivational rendition within and across the shores of Sierra Leone. Famous believes that "No matter your current situation, you just believe right now that you're a winner". Little wonders the First Lady, Fatima Bio did a Tik Tok Video on the song in recognition of the artistic efforts put into delivery of the song.
The CEO of Fame Entertainment of Fame Entertainment is arguably the most endorsed Sierra Leonean Artiste in 2021, with him grabbing 3 Ambassadorial deals in space of 3 months – They include Nectar Sierra Leone Bulk Terminal – NSBT, Africell Sierra Leone and Rokel Commercial Bank.
Performance wise, Famous has not been left off the hook. He was among the Sierra Leonean artistes selected to perform at EXPO 2020. Locally, he hasalso  graced several stages as well. It is not without note that Famous has a lively personality and dexterous attitude towards fashion and arts which gives him the edge to carve his niche. His love for fashionable clothing has won the hearts of many of his music lovers.
With more songs expected from his Winner Album, we hope Famous will not rest on his oars in delivery of infectious Afro-Pop tunes that resonates with times. Following an amazing year He's had so far, He sits on the #7 spot in the 20 Hottest Artistes in Sierra Leone 2021.