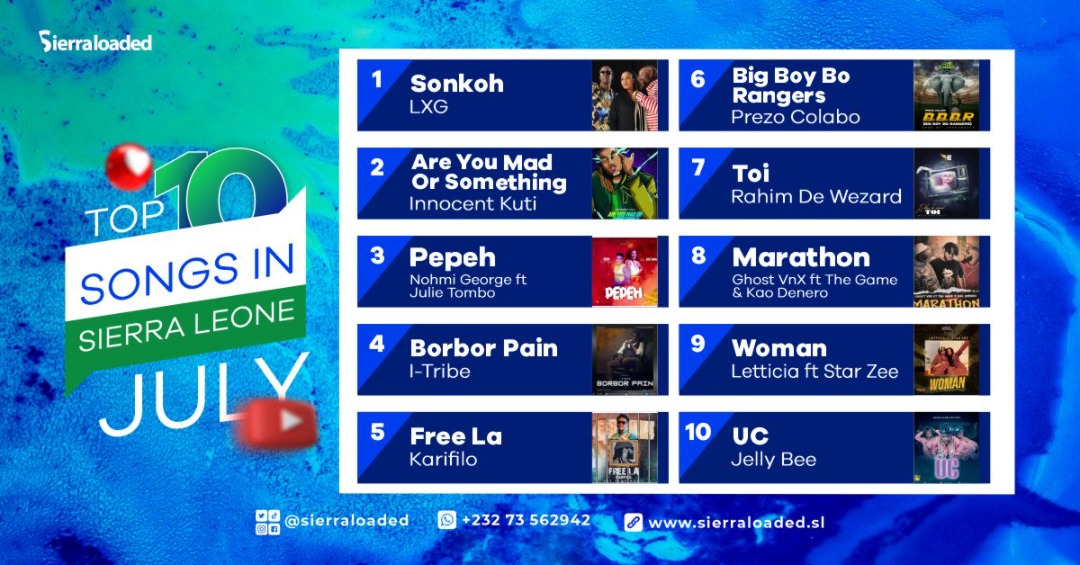 Top 10 Songs in Sierra Leone For July 2022
Happy New Month of August, Sierraloadites!
The new month is here but the last 31 days in the month of July has paved way for fresh sound in the Sierra Leone music scene. New songs are out to start dominating the playlist while particular songs have continued to hold sway on the music charts.
Entertainers and musicians have doubled down to create soundtracks to heat up the wave and thanks to this, we've had a sonically hotter year, with the airwaves taken captive by banger tracks after banger tracks.
To serve as a stamp of the times and give props as and at when due, Sierraloaded has racked up a list of the top songs released for the month of July 2022, scoring them based on the metrics gathered on Sierraloaded website i.e. view count, streaming numbers and downloads.
Below are the top songs released so far in the month of July 2022:
10. Jelly Bee – UC (541 Downloads)
Sugar Flow Factory presents a new school hardcore afro-pop female artist by the name Jelly Bee with this classic afro-pop hit single she calls "UC" as in "You See".
Nobody does it better than Jelly Bee when it comes to rapping in Krio mixed with English on one song. "UC" is a great project that shows the talent in the upcoming music makers from Sierra Leone and the urge to support their crafts.
"UC" by Jelly Bee was produced by Wilbert who is one of the most renowned music producers from Sierra Leone. This song also comes with a flavour that will encourage all to put on repeat.
9. Letticia – Woman Ft. Star Zee (632 Downloads)
Lifestyle Multimedia presents another educative afro-pop single from Letticia title "Woman" on which she featured Star Zee, DOZ Kabaaal rap goddess.
Woman is a song that educate more about being a woman and the challenges faced in this dark world of ours. This song went on to talk about how strong Women can be and the important role women play in this world.
Letticia seems to be coming up strong this year as this is her third single after releasing Pawa featuring Prezo Colabo, Na Dem Sabe and now Woman featuring one of Sierra Leone's top act Star Zee.
Woman which is a powerful song that should be recommended to all top organisations representing Women was produced by Young Lee.
8. Ghost VnX – Marathon Ft. The Game & Kao Denero (680 Downloads)
Ghost VnX drops the most trending official hip hop audio with huge amount of views in its first week of release featuring American rapper, The Game and Sierra Leonean Entertainment ambassador, Kao Denero and they call this "Marathon".
Produced by Beast Inside is a massive hip hop jam with massive bars from Ghost VnX who is repping The UK, and the two hip hop giants he featured. This song is one of the best collaboration Sierra Leone and the world can be proud of.
7. Rahim De Wezard – Toi (746 Downloads)
Hejenah Entertainment presents "Toi", a masterpiece afrobeats jam which can also be called Toy by Hejenah Entertainment recording rock star Rahmin De Wezard.
Toi is the first single off the MMIF Album which is set for release after the rains this year 2022. Toi is nicely produced by the legendary Nashito Kulala and it is one worth adding to your playlist.
Toi talks about the love and emotion of a man in a relationship with that special lady and how it really feels to be in love with the right person.
6. Prezo Colabo – Big Boy Bo Rangers (762 Downloads)
Prezo Colabo dropped the most wanted song for one of the most successful football team in Sierra Leone which is non other than the Bo Rangers.
This amazing song tagged "Big Boy Bo Rangers" plays the feelings of Prezo Colabo as he expresses love for the amazing Bo Rangers.
B.B.B.R is a great traditional song worth checking out and it was well produced by the brother JoshhBeatz.
5. Karifilo – Free La (819 Downloads)
Red Flag Musiz young blood Karifilo who was a contestant at the just ended Housemates Salone Season 3 reality TV show, drops a shout-out tape for rapper Boss La. He title this tape "Free La".
Karifilo who was one of the finalists at the just ended Housemates Salone Season 3 reality TV show, returned to the camp of the RFM to be informed that his mentor and the icon who encouraged him to try Housemates Salone Season 3, was arrested and has not yet been freed.
As an artiste off the Red Flag Musiz, the Housemates Salone Season 3 contestant used his voice to plead with the authorities asking for the release of rapper Boss La and all those who were arrested with him. Karifilo just want to see his CEO and all his team members who were arrested and jailed and in prison once more.
4. I-Tribe – Borbor Pain (910 Downloads)
Majesty Entertainment presents a bad man tune by I-Tribe on which the hitmaker really poured out his feelings on why he is the man he is today. He calls this hit single "Borbor Pain"
Borbor Pain is depicting full power over heartbreaks and relationship breakups the way forward to life and not also giving up on love.
It was produced by the gifted Jazzy Jossy whose work is always a success and Borbor Pain by I-Tribe is one worth adding to your playlist this year.
3. Nohmi George – Pepeh Ft. Julie Tombo (1,014 Downloads)
Earthquakers Records presents "Pepeh", a classic afro-pop hit single from Nohmi George and Julie Tombo, both former Housemates Salone Season 3 Reality TV Show contestants.
Former Housemate Nohmi George and Housemates Salone Season 3 Reality TV show winner, Juliana Conteh popularly known as Julie Tombo smashed up a well produced hit beats by Jassie Jozzy to rack to.
Nohmi George is known as an entertainer, M.C rapper and Movie actor. Tracing his life in the movie industry, he has over the years been featured in the Actors Guild of Nigeria and has participated in many movies in Nigeria.
His life in Sierra Leone was a peaceful and blissful life. He had his secondary education at on of Sierra Leone's funnest schools, St Edwards and spent his university life at the Athens of Africa, Fourah Bay College.
He has been passionate for his career and during his stay in the reality TV show, he has on several occasions had this discussion of adding flavour to his career after Housemates show.
2. Innocent Kuti – Are You Mad Or Something (1,611 Downloads)
Sierra Leone music sensation, Innocent Kuti comes through with "Are You Mad Or Something", his second official single for the year 2022.
Following an impressive 2021 where he blessed us with songs like "Mumu", "Full Package" amongst other collaborations which is still basking on the street and in club houses, Innocent returns with another afropop/afrosoul sensational rhythmic ballad.
"Are You Mad Or Something" talks about boys and girls who are not ready to chill with big boys and girls but want to chill with big boys and girls by all means, and all that comes with such lifestyle.
1. LXG – Sonkoh (2,115 Downloads)
LXG, Sierra Leone's pride in the music industry drops another banger they refer to as a taste of what to come from the team this year and beyond.
Title "Sonkoh" is a great anthem that every fan of LXG will enjoy putting on repeat and also add to their playlist this year.
It is a short afrobeats tune with a powerful message to listen to on the regular and we encourage all to check this out.
Thank you for checking out Sierraloaded' top 10 Sierra Leone songs for July 2022 that were downloaded by you the fans. Keep streaming and downloading from Sierraloaded to keep your favorite artiste on the chart.