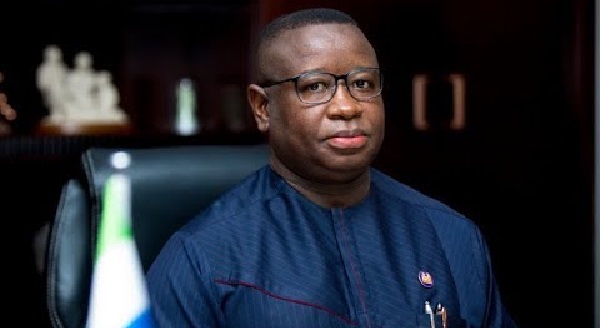 President Bio Accused of "Fake Legacy" as Bo Youth Still Languishes in Prison
President of Sierra Leone H.E. Dr. Julius Maada Bio has been accused of burnishing a fake legacy to the United Nations insofar as encouraging members of the democratic opposition to enjoy their rights to critical free speech.
President Bio on 22nd September 2021 had told the world that amongst his legacies was removal of hindrances to free speech by members of the democratic opposition in the country.
However, even as the President was burnishing his credentials during his address at the UN General Assembly on 22nd September 2021, it is a fact that a youth leader from the main opposition All Peoples Congress (APC) continues to languish in a Southern Province Bo District jail cell under a very dubious prosecution and sentencing that followed his Arrest initially done over his critical expression against the President.
Michael Magba Mansaray, a youth leader of the Bo branch of the main opposition APC party was arrested from his home in Bo City at the end of April this year. He was taken without any legal arrest warrant. He was taken from his bathroom half naked by a bunch of supporters of President Bio. They accused him of "disrespecting the President" in a video message he had issued. They beat him up and then handed him over to the Police for the alleged crime of "disrespectful incitement" against the President.
Subsequent to this, his house was raided, some tablets containing paracetamol was recovered from his home and he then had his alleged crime changed from "incitement" to "unlawful possession of drugs".
However, there was no Law that made it a crime to have such paracetamol tablets so he was charged under an Act meant for criminal actions involving drugs like Cocaine and Heroin. Subsequently, he was unlawfully sentenced to 8 months Jail which he is still serving despite several publications and calls for his release; principally done by popular female politician and journalist Dr. Sylvia Olayinka Blyden.
"That's a fake legacy that President Bio is boasting about. My nephew is a member of the opposition who was arrested for criticising the President so where is the free speech? I don't see it," said Mr. Juldeh Mansaray the uncle of the detained man.
Mansaray had contacted this newspaper yesterday 23rd September 2021 to vehemently protest against the "fake legacy".
"Whilst President Bio may be saying one thing, the fact is that an opposition youth leader, Mr. Michael Mansaray, continues to languish inside a Bo Prison in what is clearly a sheer injustice," Madam Rebecca Kallon also opined from Bo.