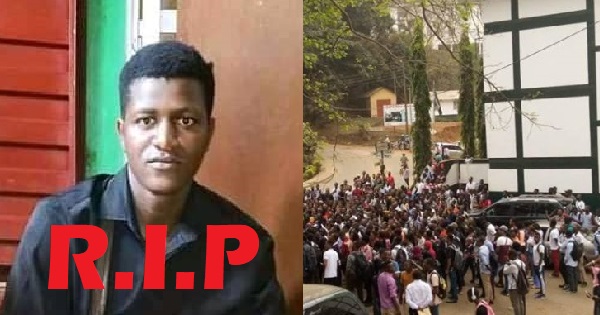 Fourah Bay College Student Shot Dead by Armed Robbers in Freetown
The family and colleagues of 24-year-old Santigie Karankay Conteh, who was allegedly shot at his Sumaila town residence off Hill side by pass road in Freetown, say they want his killers to be brought to book immediately.
According to family sources, the final honours (1) Mass Communication student of Fourah Bay College got out of his house on the night of 18th July 2021 to ease himself and met his killers. They say they heard three gunshots after which they rushed out and found the deceased in the pool of blood.
Morlai Conteh, uncle of the deceased, told Politico that his nephew was at the intensive care unit of the emergency hospital in Freetown for just over two weeks, raising hopes that he was responding well to treatment.
He said throughout that period no family member was allowed to see him. Conteh said the family was therefore unable to ascertain from the deceased whether he could recognize any of his attackers.
Conteh said, "it was yesterday that we were informed that he couldn't make it because the bullet affected his liver. But since his death is a crime, the police at New England Ville said they will request a post-mortem examination before we could bury him". He said as Muslims they would like to "fast-track" his burial rites while looking forward to justice being served.
Speaking to Politico, the President of the Mass Communications Students Association, MACOSA Mohamed T. Massaquoi said it was disheartening to know that the killers of the colleague have not been arrested weeks after the incident.
"We want justice for the promising young man. Today it is him and if the culprits are not brought to book and adequately dealt with, they are going to repeat the same thing in future to some other peaceful citizens."
The Local Unit Commander at the New England Ville Police Station Superintendent Issa Kamara told Politico that officers went to the crime scene and found empty cartridge shells. He said they now know that those shells came from a pistol but that investigations are ongoing with no arrests made so far.