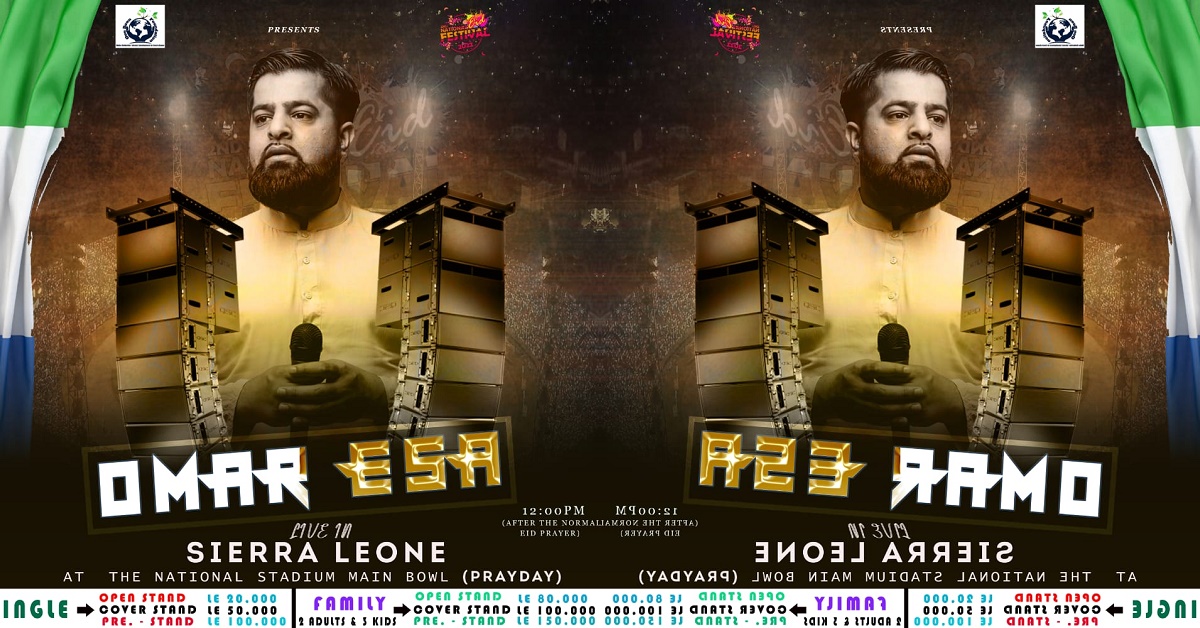 One Deen Foundation Announces Its Second National Eid Festival
Prayday is a day to pray, feast and celebrate, in light of this, the One Deen Sierra Leone has announced the 2nd National Eid festival which will be held at the National Stadium on Pray day from 12pm till evening.
The National Eid Festival is geared at promoting peace, unity and tolerance in Sierra Leone.
According to the One Deen Foundation, this time around, one of the best international Islamic Artist from UK, Umar Esa, will be a part of this event as Guest Performer.
One Deen Foundation says the ticket prize per person for open, cover and presidential stand is Le20,000, Le50,000 and Le100,000 respectively, For a family of 5, the ticket prize for open, cover and presidential stand is Le80,000, Le100,000 and Le150,000 respectively, which you can get by contacting: 077463969,  078 494 646, 076 979 894 and 034975297. children from zero to five (0-5 )years will be allowed in for free.
The Foundation joyfully speak of how interesting the event will be; "  the Eid Festival will be an event with different entertainment programs like: beautiful Islamic songs, poetry, drama, special children playing ground and competition between east, west and central for amazing prices"
To ease the transportation burden on that day, the foundation says they will provide buses which will be parked at different stations in Freetown; Waterloo55, Jui Junction, Calaba Town K-Step, Wellington, Up gun, Eastern Police Station and Lumley Turntable.
The foundation continued that the first and second trip will take off by 11:30 a.m. and 12:30 p.m. respectively.
It ended by encouraging all Sierra Leoneans to join in this style and grandeur to celebrate our Prayday .