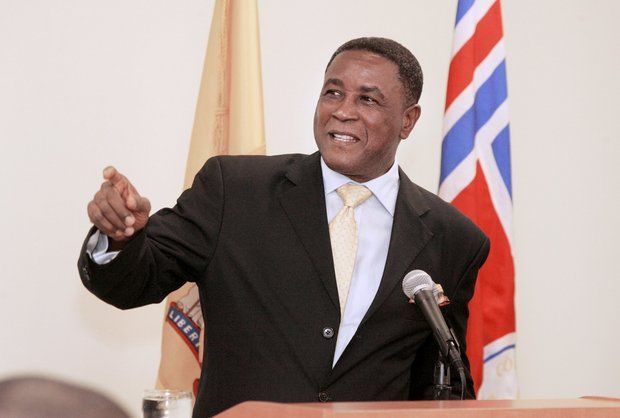 "My Number Has Changed to AK11" – Alpha Kanu Brands Himself as SLPP Newest Left Winger
Hon. Alhaji Alpha Sahid Bakarr Kanu, the newly appointed Resident Minister for the North-West of the country, in a stakeholder's conference with traditional heads held at Kambia District, branded himself as SLPP newest left winger aka "AK11".
In his talk, addressing the traditional heads during the conference on the 5th February 2022, he craved the indulgence of the conference attendees in thanking and commending the Vice President of the Republic of Sierra Leone, Dr. Mohamed Juldeh Jalloh for the wise decision made of appointing him as the resident minister for North-West region.
During his short talk, he quoted from the Quran about the story of Yusuf (Joseph) a time when he was sold to foreigners by his brothers and later found himself in Egypt where he was placed as head of food security. At the time of food shortage in world his brothers that sold him later had to inevitably meet him for help. Alpha Khan in his own very words, referred himself as the Yusuf and that in time to come his former comrades will inevitably meet him for help as it happened in the story.
Trying to express how ecstatic his emotions are with regards to the appointment, he further drew some instances when a player is brought to the football pitch at the eleventh hour to fill a certain position and bragged of himself being the best SLPP left winger a.k.a "AK11,' and that there is nobody in the North-West region worthy as an opponent. With him capacitating this wing, there is no player to play him foul.
He furthered that, his initial number has been changed from him being in the center to now playing as a left winger and declared to the audience that his new number is "AK11."
In his concluding statement, he sang a Temne cultural song that portrays his decision of moving from his former APC party to his new SLPP party. The summary of the song lyrics depicts that when party X says they are no longer in place to accommodate you, it is okay to move to party Y as they might have seen the possible impacts you can add to the party's portfolio. He stressed that I pays no harm to take a walk from your former home to another when the former home no longer needs you.