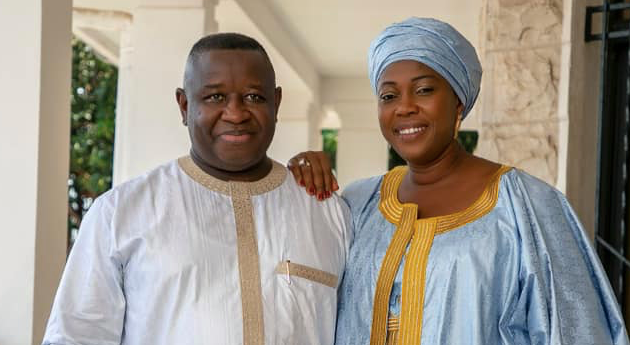 "Madam First Lady I Have Been Saying to Always Wash Our Dirty Linen Within The Party" – President Bio Blasts
The President of the Republic of Sierra Leone, His Excellency President Brig. (Rtd) Dr. Julius Maada Bio has levied his anger on his wife, Madam First Lady Fatima Bio and the Sierra Leone Peoples Party National Leadership over the National Women's Wing election in Kailahun.
President Bio invited SLPP Women's Leadership aspirants and their delegates at State House where he addressed them about the just concluded Women's Wing election violence in Kailahun.
According to His Excellency, Women's Wing supposed to be a very powerful wing for every party when it is organized and properly led. He added that, the SLPP women has got the opportunity to choose their own leader. He advised them to create a council around leaders and for them to support to provide the necessary leadership to continue functioning and play great role to the Sierra Leone Peoples Party.
President condemned the violence in Kailahun during the election. "It's a shame that we were unable to complete it in Kailahun which made us to come to Freetown". He expressed disappointment at the leadership of the First Lady Fatima Jabbe Maada Bio. "Madam First Lady I have been saying to always wash our dirty linen within the party. A lot of problems are happening but I cannot stand here and talk about them. Although I was not in the hall but I followed through on the problems". He advised her to always address issues and deal with them at the right point. "When we are standing here, we are talking to the whole world and some of the things that we are saying will be used against we and you cannot deny them because they authoritatively came from us. So, there are times when it is necessary to say certain things and you should know where to say them."
President Bio continue saying that he will not duel on the Kailahun issue because the mistake would have been corrected there. His Excellency informed delegates that they have the right to belong wherever they want to belong. "This is politics, everyone has the right to belong where he or she wants to belong".
President Bio admitted that he knew about the violence and he totally condemned the act. He expressed disappoint at the party's leadership. "We made arrangement to make sure that especially when it is Women's Wing, we should not have that kind of situation. Not that I was sleeping, but I was not alone. What you have done was due to poor management of our party. I have to leave as Head of State every now and then to go and govern the party day to day. I wish the National Leadership was functioning very well. It is not my business to do the day to day running but to provide political strategic leadership for the party. But I have to virtually attend every meeting so that we will not have chaos. We are 70 years old and I keep reminding everybody. We should not be comparing ourselves and we are not even closer to those other parties".
President Bio felt excited to present the party women's leadership and asked for their support. "For me, today is a big day to come and present to you the very first leadership that was elected by women. You have chosen you own leadership. Now we have the national elections. I will make sure that we provide the same level playing field so that everyone can go and vote for the one he or she want to vote for. We should set the example that if they say election, it's not about violence. We are still in the same party. The National Women's Wing election is over. What we are going to do now is to kneel to every woman in the Sierra Leone Peoples Party to come together and support Hawa Foray".