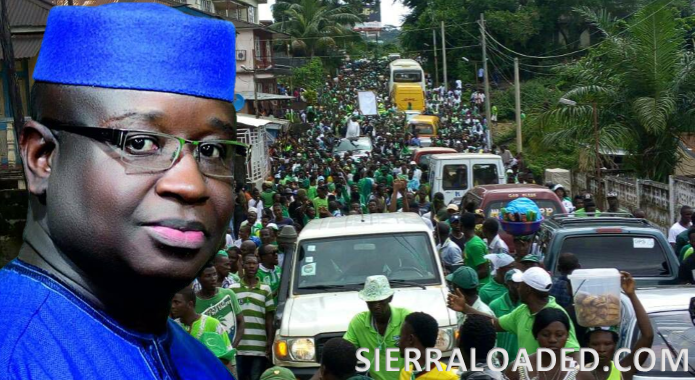 "We Are Disappointed" – SLPP Media Team Declares Indefinite Strike Against Maada Bio's Government
The media team of the ruling Sierra Leone People's Party (SLPP) has declared an indefinite strike over what it described as frustration, dissatisfactions & disappointment from the party stalwarts and government appointees.
The team identified as SLPP Global Media Team includes bloggers and social media influencers across the provinces of the country.
The team said their primary responsibility was to propagate and disseminate the ongoing sustainable developmental activities of the President Maada Bio Led New Direction Government on social media platforms, and to debunk all fallacious propaganda being spread by opposition parties.
However, in a statement made available to Sierraloaded, the media team said they have agreed to seize in promoting and disseminate the good works of the New Direction administration including the work of the Office of the First Lady, Fatima Maada Bio until further notice.
"This immediate HALT (MEDIA BLACK-OUT) on all our ACTIVITIES on SOCIAL MEDIA came as a result of our frustration, dissatisfactions & disappointment regarding the many neglects and blind eyes given to the SLPP Social media BLOGGERS by the SLPP PARTY STEWARTS and the Government Appointees.", the statement said.
It added that "During this period of MEDIA BLACK-OUT, The following actions will be fully implemented by all BLOGGERS of the SLPP GLOBAL MEDIA TEAM worldwide with specific concentrations on all our Provincials Bloggers in BO, KENEMA, KONO, MAKENI, PORTLOKO, KAILAHUN, KABALA, FALABA, BONTHE AND THE WESTERN AREA.
"There will be a Total NEWS BLACK-OUT on the propagation and dissemination of all information, that pertain to the ongoing developmental Activities or accomplish work that will be done by the government and needed the viral attention of citizens on all social media outlets by any of our SLPP Global media team of bloggers country wide."