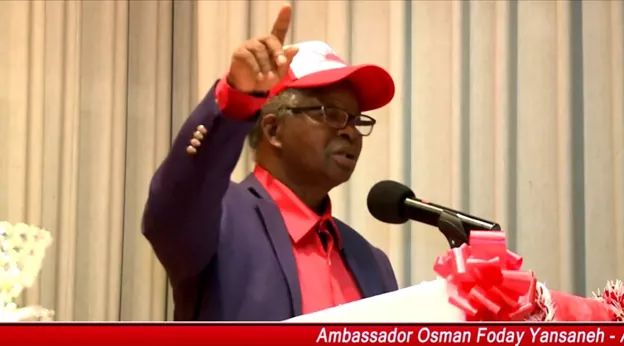 "We Remain Committed To Peace" – APC Slams President Bio Over Terrorism Allegations
Sierra Leone's main opposition party, The All People's Congress (APC) has slammed President Julius Maada Bio over his comments on violence across the country.
Sierra Leone has witnessed spite in violent incidents and political violence across the country in the past month which has led to loss of lives and destruction of properties.
No less than five prisoners and two prison guards were killed in a riot that broke out at the Pademba road correctional centre last month. In addition, several inmates were injures while government properties were vandalised.
Similar outbreak of violence was recorded in Foredugu, Lunsar, Falaba and tombo in the last weeks.
In a National address on Friday, President Julius Bio had blamed the opposition All People's Congress for the violence describing it as "carefully planned, coordinated, well-orchestrated and executed acts of violent terrorism targeting the state, state officials, public buildings, and private persons and property."
"Evidence emerging from investigations have named known local leaders and members of the APC as being responsible for inciting, planning, financing, mobilising, and in some cases actively participating in violent terrorist attacks against the people of this country.", President Bio said.
The President added that his government will use all instruments of state power and resources permissible under the laws of to deal firmly and decisively with these violent terrorist attacks against the state of Sierra Leone.
In a statement on Sunday by the Secretary General of the APC, Osman Yansaneh, the party deplored the President's resort to political colouration and classification of wanton violence and killings in the country.
The APC said that it is disappointed that the President could use a national address to denigrate a legitimate political institution which existence is in accordance with the 1991 Constitution of Sierra Leone and the Political Parties Registration Act of 2002.
The statement partly reads, "The APC Party wishes to make it known that we are a law abiding Party and since 4th April, 2018 when President Bio was sworn into office, we have kept within the confines of the law and have resisted all forms of provocation and intimidation. APC Party Offices were vandalized country wide, party loyalists brutalised, raped and killed. Many of our members had their houses burnt down and some were forced to seek refuge in strange lands where they continue to languish in misery and squalor."
Labelling the President's statement as disturbing, the main opposition party said that describing a significant percentage of the country's citizenry as 'terrorists' is certainly not how to keep Sierra Leone united and peaceful.
"The APC would like to bring to the attention of the international community and the nation that the statement of His Excellency the President of 8th May, 2020 describing the leaders and members of the APC Party as ''terrorists'' could serve as a precursor for lynch mobs to go after peaceful citizens of this country.
"The APC Party wishes to make it known that we remain committed to peace and stability in Sierra Leone. We however believe that there can never be genuine peace without justice. We therefore call for peace and justice in Sierra Leone. We therefore insist on an independent investigation into the 29th April, 2020 alleged 'prison break' at the Male Correction Centre, Pademba Road, and the unfortunate incidents at Lunsar, Tombo and other areas in a bid to bring to book all those involved in perpetrating violence.", the statement said.
While reminding that the Party is not in any "fight" with the Government, the APC called on President Bio to focus on pursuing genuine peace and national cohesion through meaningful dialogue.