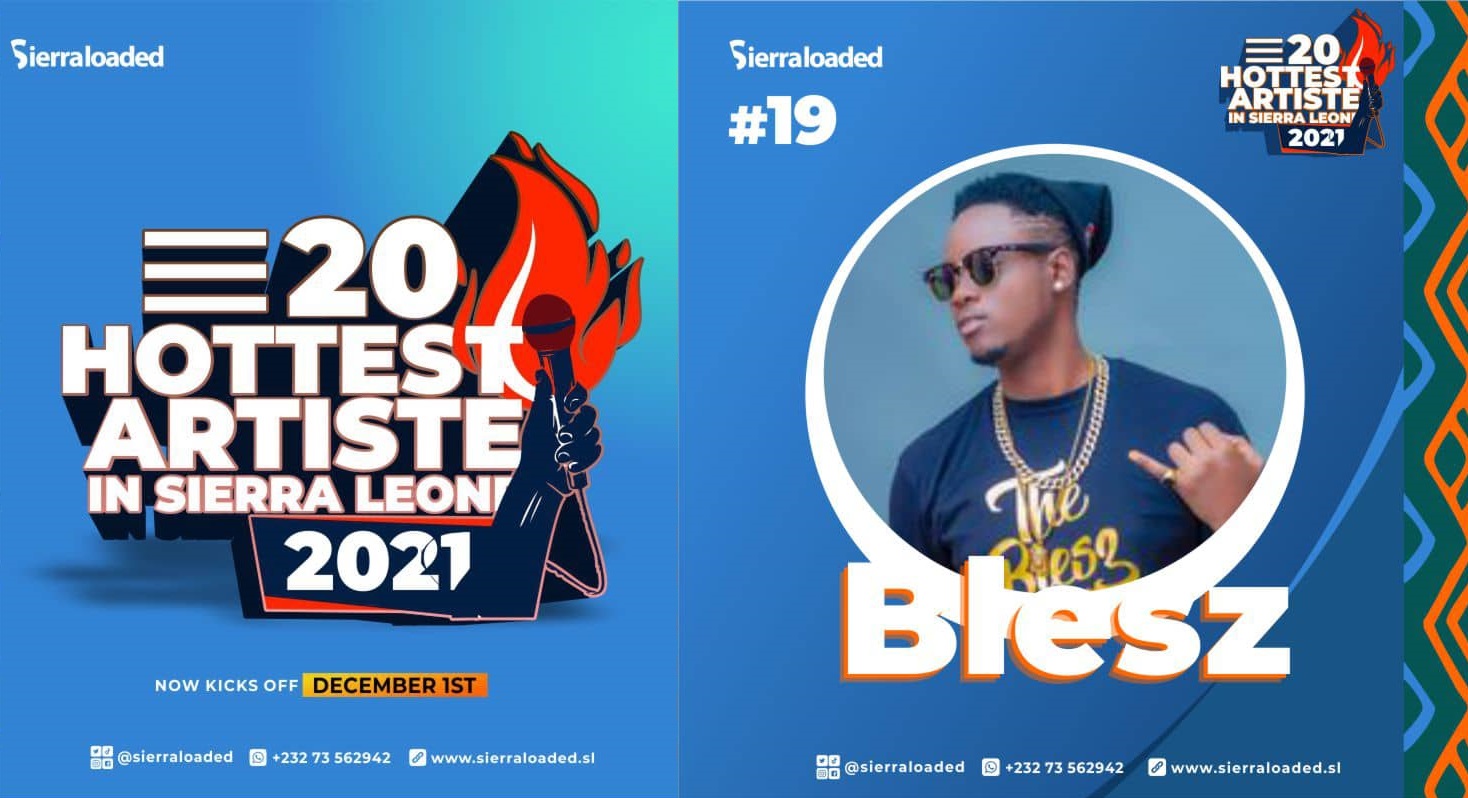 The 20 Hottest Artistes in Sierra Leone 2021 – Blesz – #19
When you mention artistes who have made tremendous efforts in stepping up their game in the last 10-11 months, David Kelfala Nuyaba popularly known as Blesz undoubtedly earns a spot on the list.
The multi-award-winning singer and entrepreneur has continued to make himself a fans favorite with consistent release of feel good songs that blends well with street pop.
The singer originated from a musical duo called "Blesz & Future". Their hit single, 'Banana' which was produced by Lordmo brought high recognition to the team. Blesz later signed to Kabaka Multimedia Entertainment (KME) alongside Kracktwist & Samza, Rozzy and Markmuday but later moved on to form his own record label, 'The Blesz Way' after his KME contract came to end.
'Prestige', His first official album from 'The Blesz Way' record label has topped most of charts on radio stations and the album has been ranked as one of the best albums for 2021. The album sees a number of afrobeats and dancehall tunes giving fans a feel good vibe and synergy.
Blesz has also shown us he is no fluke through collaborations with Sierra Leonean hitmakers like Nega Don on the hit song 'Agbado' and Kokobeh,  Tazzy B on 'Eternity' and Prodigy on 'Want you more'. The lead single of the album 'Hustle go make sense' remix features Star Zee, Arkman, Prodigy, Markmuday, Kindo Armani and Kracktwist & Samza.
In November, Blesz showed us that He is not putting a rest to his academic oars after announcing that he has earned a Masters Degree in Business Administration from Institute of Public Administration and Management – IPAM, University of Sierra Leone.
Blesz's #19 debut on Sierraloaded 20 Hottest Artistes in Sierra Leone 2021 is no doubt a result of hard work, consistency and tremendous efforts put into his craft throughout the year. Hopefully, we can get more of him in the coming year.