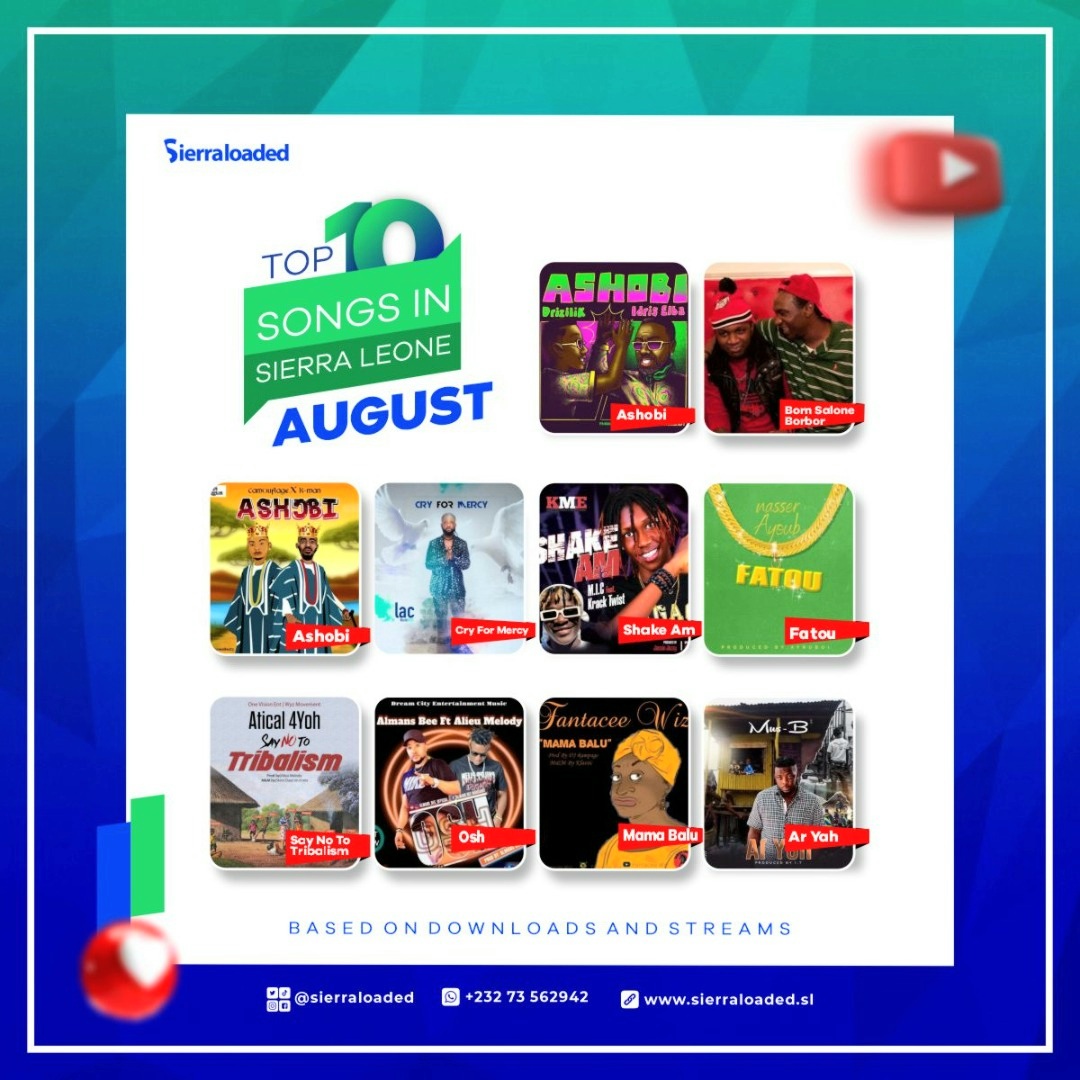 Top 10 Songs in Sierra Leone For August 2022
Happy New Month of September, Sierraloadites!
The new month is here but the last 31 days in the month of August has paved way for fresh sound in the Sierra Leone music scene. New songs are out to start dominating the playlist while particular songs have continued to hold sway on the music charts.
Entertainers and musicians have doubled down to create soundtracks to heat up the wave and thanks to this, we've had a sonically hotter year, with the airwaves taken captive by banger tracks after banger tracks.
To serve as a stamp of the times and give props as and at when due, Sierraloaded has racked up a list of the top songs released for the month of August 2022, scoring them based on the metrics gathered on Sierraloaded website i.e. view count, streaming numbers and downloads.
Below are the top songs released so far in the month of August 2022:
10. Mus B – Ar Yah (272 Downloads)
"Ar Yah" by Mus B is a powerful afropop song with a great message for every Sierra Leonean in and out of Sierra Leone to check out in order for that Sierra Leonean to know the real happening in Sierra Leone.
Mus B is a young talent from Sierra Leone who has had enough of the happenings going on in his country Sierra Leone and decided to talk about them in this song.
On this song tagged "Ar Yah" which can mean "I wish", Mus B talked about exactly what is happening in Sierra Leone and how he wishes things will change for the better.
9. Fantacee Wiz – Mama Balu (345 Downloads)
Mama Balu by Fantacee Wiz is a defiant song of an off age girl who has done everything her guardian ask of her but still won't let her have fun.
Fantacee Wiz is a multiple award winning traditional folk singer from Freetown, Sierra Leone.
Fantacee began music as a member of the Voice of Children on UN Radio. She later joined a music group called Freetong Players International. Fantacee was appointed UNDP peace Ambassador during the 2007 Presidential and Parliamentary elections and the 2008 local government elections.
8. Almans Bee – Osh Ft. Alieu Melody (438 Downloads)
Alfred Bernard Mansaray, better known by his stage name Almans Bee, is a Sierra Leonean singer, Afro-Rapper, songwriter, Music and Video producer.
He is best known for his hit singles "Sweetie Sweetie" and "Time Bum".
He was born in Makeni and grew up in the western Rural District Headquarter (Waterloo), he was the most popular and most talked about Musician in the western Rural area from 2010 to 2015.
He Traveled to Europe in 2015 and formed his own record label called Dream City Ec Music which he found in 2017.
He was once signed in a label call Princess Entertainment which he was the founder too, but left the label after he found his own Label.
Now he is back with his debut Album titled: "D' DREAM" after many years of disappearing.
7. Atical 4yoh – Say No To Tribalism (522 Downloads)
One Vision Entertainment and Wyz Movement present another banger from the camp of Atical 4yoh and this is another national treasure worth adding to your playlist.
Atical 4yoh calls this one "Say No To Tribalism" and it comes with the right message at the right time when the Tribalism in Sierra Leone is becoming out of hand for the development of the nation.
Tribalism is the state of or fact of being organized in a tribe or tribes, the behaviour and attitudes that stem from strong loyalty to one's own tribe or social group. Should the work not be done because the one person who knows how to do the work does not belong to a particular tribe or social group?
"Say No To Tribalism" by Atical 4yoh is one of the most realest banger by the hitmaker and it was produced by Alieu Melody, mixed and mastered by Skivv Dazz on the mix.
6. Nasser Ayoub – Fatou (585 Downloads)
Nasser Ayoub, the master mind song writer and video director drops another mind blowing jam he calls "Fatou" which we recommend checking out.
It is an afrosounds tune for that special someone at that special moment to express oneself about efforts and expectations. Told you Nasser Ayoub is one hell of a master mind.
Fatou by Nasser Ayoub was produced by AfroBoi and this master craft sounds Ivorian. Although this banger is from Sierra Leone, it is one the world could check out.
Feel the pains in the heart of Nasser Ayoub on this song as we hope for a change in the life of Fatou.
5. M.I.C – Shake Am Ft. Kracktwist (695 Downloads)
Kabaka Multimedia and Entertainment presents M.I.C with a bad man tune the rock star calls "Shake Am" on which he featured former record label rapper Kracktwist.
On "Shake Am", one will find all that is needed to get a party jamming and it is an Afropop banger that comes with a flavour for all.
It was produced by Jassie Jozzy who is doing well this year by producing masterpiece beats for Sierra Leonean music makers. M.I.C teaming up with Kracktwist was a success for this project.
Mixed and mastered by Alman is another classic from the camp of KME we recommend you check out.
4. LAC – Cry For Mercy (978 Downloads)
LAC World Boss jumps on the trending issue in Sierra Leone which all started on 10th August, 2022 where lives were lost in a bloody demonstration. LAC decided to do this song in honor of the lost souls and he calls this one "Cry For Mercy".
Following his long, frustrating and bitter prison experience due to an unjust court decision (thou have accepted it all in good faith), the new man in him which many have described as a change Agent alias World Boss.
In his new debut has glorified with inspirational vibes, his Maker JEHOVAH with an ear catching blessed road map.
3. Camouflage – Ashobi Ft. K Man (981 Downloads)
Borderline Entertainment presents Camouflage and K-Man on this masterpiece afro-pop track called "Ashobi" we recommend you check out on the low.
Camouflage and K-Man teaming up to give their feelings on being tired of moving from one woman to another and are both now ready to tie the knots is what will be referred to as success.
"Ashobi" is a song that shows the readiness of the hitmakers and Ashobi is a particular dress for special occasions made for a group of people like wedding guests in the Sierra Leone community.
This song was produced by a genius on the beats by the name of Tunexbeatz and we encourage all to support another classic jam from Camouflage.
2. Cedex – Born Salone Borbor Ft. Boss La (988 Downloads)
Young Sierra Leoneans (YSL) alongside Red Flag Musiz present Cedex on this smashing representer hit single tagged "Born Salone Borbor".
This song features Boss La and it is an anthem that talks to all real hustlers from Sierra Leone representing the Streets and the hoods especially those from the Central part of Sierra Leone.
Cedex who is a born Sierra Leonean and currently base in the USA delivered nothing but fire on this track and Boss La with the chorus dished out an anthem worth adding to your playlist.
"Born Salone Borbor" is a single from Cedex's most wanted tape "J6 Survivor" which is all over the Internet. Cedex is a January 6th survivor and has a story to tell.
Check out "Born Salone Borbor" by Cedex and Boss La and let us know your take on this.
1. Drizilik – Ashobi Ft. Idris Elba (1,242 Downloads)
Off his Ashobi Album, Benjamin Menelik George "Drizilik" drops off another single 'Ashobi' featuring IdrisElba.
This new record is a pure Rap/Hip-pop genre that comes with dope message, shades and jabs from the New School Rapper. With 'Ashobi',  you about to experience creativity at it's Peak from the storyteller because you know when Drizilik drops a track, it's definitely a Masterpiece.
Ashobi' would definitely make your playlist as it joins the almost exhaustive list of creative bangers from the Shukubly singer.
Ashobi by Drizilik and Idris Elba was produced by Dj Rampage and Masterkraft.
Thank you for checking out Sierraloaded' top 10 Sierra Leone songs for August 2022 that were downloaded by you the fans. Keep streaming and downloading from Sierraloaded to keep your favorite artiste on the chart.