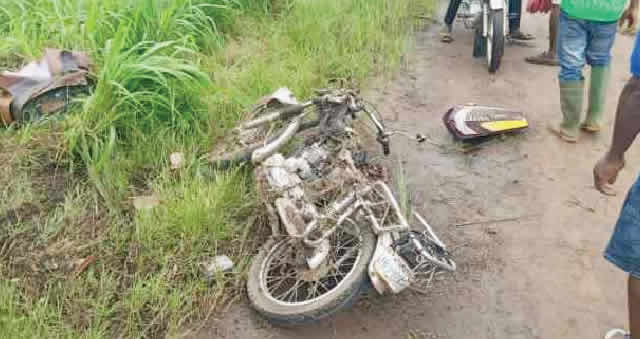 Commercial Bike Rider Dies in Kono Fatal Road Accident
A fatal road accident in the early hours on Monday 24th October 2022 claimed the life of a commercial Motorbike rider John Ndapy formerly of Tankoro Camp in Koidu City, Kono District.
Speaking to our correspondent, the information officer Tankoro Police Divisional Headquarters in Koidu City Komba Sorie noted that at around 3: 00 am on Monday 24th October 2022 the deceased who was in control of an unregistered TVS Motorbike along John Kellie Street in Koidu ran into a stationary vehicle belonging to one Amara Sheriff a resident of Waterloo and died on the spot.
Asked to know the findings of the Police investigation of the said fatal road accident, Komba Sorie pointed out that the police investigation was not mature enough for them to disclose their findings.
He said the remains of John Ndapy were later conveyed to the Koidu Government Hospital Mortuary for Post-mortem examination and that the corpse has been handed over to the family members for burial.
According to him, the owner of the stationary vehicle was initially in Police custody but he has been bailed by a reliable surety.
The information officer Tankoro Police Divisional Headquarters, Komba Sorie maintained that apart from the accident under investigation the previously high rate of road accident cases in the district has drastically reduced and therefore cautioned all road users to be watchful and careful when using the road.