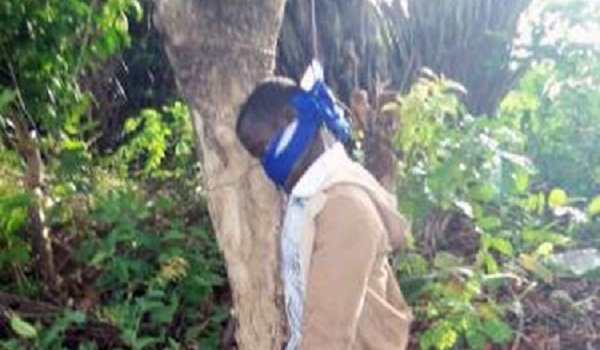 30-Year-Old Unemployed Man Hangs Himself to Death in Freetown
A thirty-year old Mohamed Sesay who was formerly a resident of 46c City Road, Metchem at Kissy Mess Mess on Friday, May 16th 2015 hung himself to death from a Mango Tree at the Kuntoloh Community. His reason was as a result of frustration caused by unemployment.
The deceased who was a father of two children was found hanging from a Mango tree in the early hours of Saturday, after several attempts were made by the community people the previous day, for him to climb down the tree.
According to an eyewitness, who was also a friend and former boss of the deceased, Osman Kabba, he was from a Zuhr Prayer at around 2:00pm when he was alerted by the wife of the deceased, that his husband was up the tree and had refused to climb down threatening to hang himself.
It was on his arrival at the scene that he recognized the deceased and equally encouraged him to climb down but the deceased insisted that he wanted to die as he had a lot of problems that he could not solve, as a result of unemployment.
The eye-witness told Sierraloaded that the deceased was in recent times working as a driver in one of the beverage companies, G. Shankadas but was sacked from the job.
It was confirmed by some community people that they dispatched some youths to forcefully pull the deceased down but anytime they climbed the tree, he climbed higher. "One man even offered him money and promised to find him a job but he refused to climb down, and we also lit tires under the tree hoping that the smoke could suffocate him but he could not climb down until night when we left for our houses" Osman explained.
It was also revealed that the deceased had initially climbed a roof at Metchem but his aunt succeeded in threatening him down before he left to visit his wife in the Kuntoloh community, where he climbed the tree while strolling down a sloppy road together with his wife and children.
Speaking to journalists at the scene, the Local Unit Commander of the Kissy Police Division, Alie Curtis Koroma expressed dissatisfaction over the negligence of the community people to alert the police immediately they noticed the man in the tree.
L.U.C Koroma told journalists that information about the incident only reached the police station at around 6:00am on Saturday when he together with some police offers walked to the scene and saw the deceased hanging naked in the Mango tree in the Community.