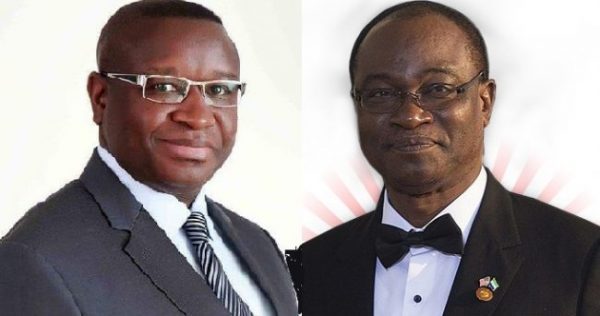 President Bio Makes Le100 Million Pledge on Behalf of Samura Kamara
President Bio and Dr. Samura Kamara are members of the St Luke's Catholic Church.
Barely a day after highly contested Bye-elections between the ruling Sierra Leone People's Party and the opposition All People's Congress in Koya and Kailuhun, respectively, President Julius Maada Bio pledged 100 million on Leones on Sunday on behalf of his political rival, Dr. Samura Wilson Kamara.
He pledges on behalf of his 2018 presidential opponent during a fundraising drive towards the extension of the existing parish building of the St Luke's Catholic Church, Wilberforce, where the APC 2018 flagbearer and the President are fellow parishioners.
Describing Dr. Samura Kamara as his friend, President Bio, who was Distinguished Grand Chief Patron of the Parish Building Extension project, and the church was blessed because no matter how the outcome would have been in 2018, one of its parishioners was destined to become President.
The pledges on behalf of Dr. Samura Kamara were received with a resounding cheer and thunderous applause thought he was unavoidably absent.
According to the Exclusive Newspaper, besides singling out the former APC flagbearer, the President also announced a pledge including material items and cash totaling two billion Leones. This was also received with the signing of the hymn "way you work for God, losisi nor go de."
The First Lady, Madam Fatima Bio, who was the Chief Launcher, announced that the pledge by the President also included commitments made by good friends of the Frist Family.
Mr. Danial Bunting Johnny, Chairman for the Building Extension Launch Committee, said the church started as a small wooden structure, a relic of the colonial legacy shared by three denominations – Anglicans, Methodist, and the Catholic. He added, "It was not until the mid-80s when the Catholics took over the entire church, tore down the old wooden structure and a modern building constructed by the strikingly very tall American Rey Father, Corey." The Rev Father is still alive at the ripe ago of 89 though retired.
The church has a current strength that is believed to be close to 1000 for its 300-capacity structure that it is impossible to hold one mass for the entire congregation.
If completed, the extension will have a congregation of a minimum of 750 congregants. The current St Luke's Parish was first known as St Luke's Garrison Church because it used to serve all the Christian needs of the military men and women stationed at the Wilberforce Barracks.