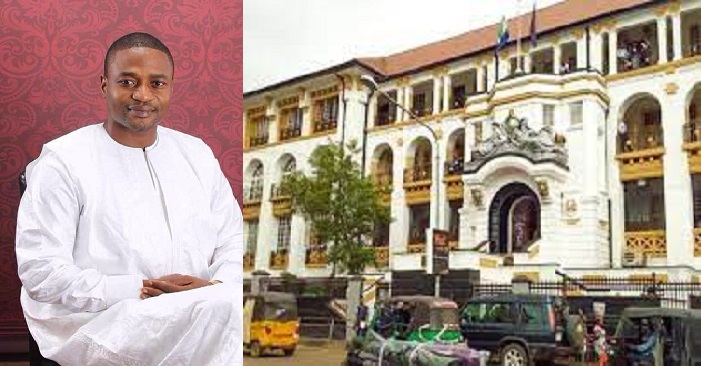 Hotel Receptionist Testifies in Kamarainba's Trial
One of the Receptionists at the Diamond Lodge Hotel in Kono, Amimata Sellu has testified in Court, before Justice Samuel Taylor that the first accused Mohamed Kamarainba Mansaray was not in Kono on the 14th February 2020.
The State is alleging that on 14th February 2020, the former Standard bearer of the Alliance Democratic Party Mohamed Kamarainba Mansaray, sexually penetrated a JSS three Pupil, who is below the age of consent in Kono. And one of the places mentioned by the Prosecution, where they had such intercourse is at the Diamond Lodge Hotel in Kono.
Testifying in Court, Amimata Sellu, said she has never seen, the first accused Mohamed Kamarainba Mansaray at their place of work (The Diamond Lodge Hotel).
Awoko reports that the witness who was made redundant, as a result of the Coronavirus affecting the hotel business, said that she worked at the hotel from December 2018 until April 2020.
The witness went further to explain about the processes guests normally go through whilst accessing their facility, adding that the keys to the hotel rooms are locked in a shelf at the hotel, and they are only accessible by the Receptionists.
She said that she came to know about Mohamed Kamarainba Mansaray, when she was taken from the Eastern District of Kono to the Criminal Investigation Department (CID) Headquarters in Freetown, and on that very day she was also invited by the Police in Kono and later sent to Freetown.
Madam Sellu maintained that on 14th February 2021, Kamarainba did not collect any key from her neither did anybody on his behalf.
Mohamed Kamarainba Mansaray is jointly charged with one Marion Arouni with conspiracy and Sexual Penetration related offences. He continues to be remanded by Justice Samuel Taylor of the Sexual Offences Modal Court, and the matter will also continue this week.