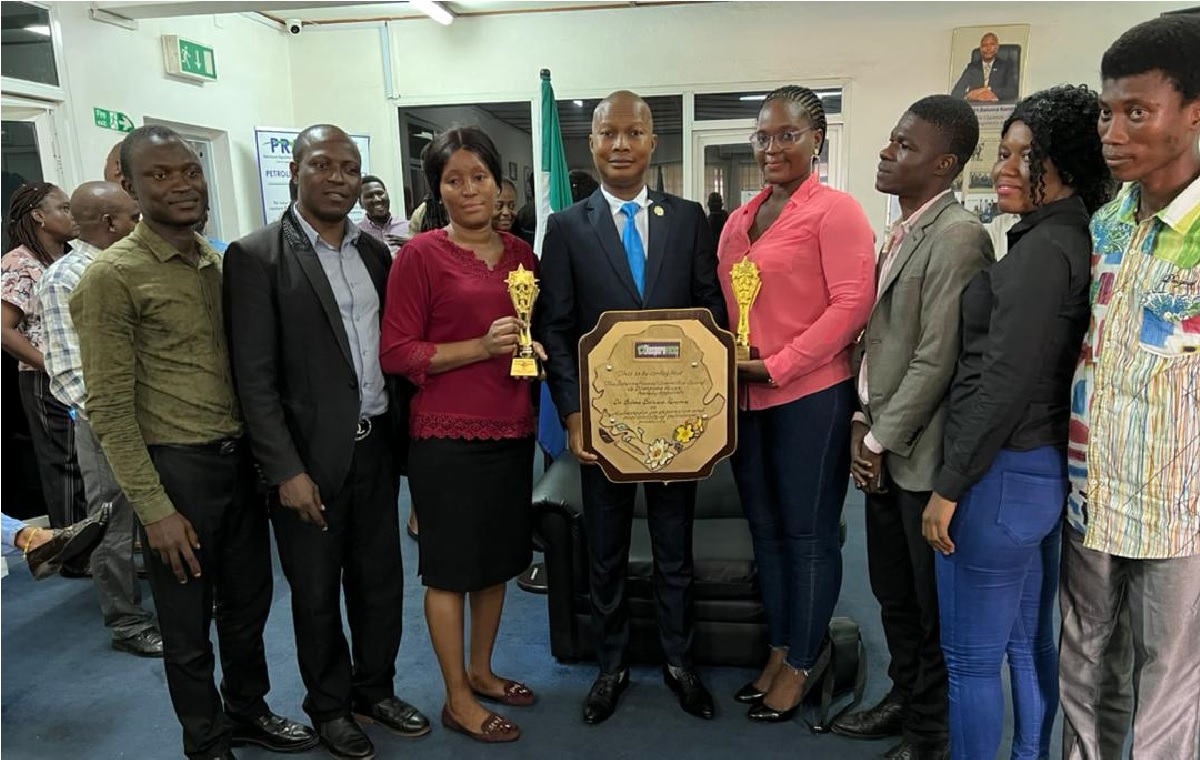 PRA Boss, Brima Baluwa Koroma Bags Ambassadorial Award, Dedicates it to President Bio's Leadership
The Executive Chairman of the Petroleum Regulatory Agency Brima Baluwa Koroma, has bagged an Ambassadorial award from the prestigious Global Diaspora Focus Magazine. He was also awarded for effective administration and astute Leadership in transforming the downstream Petroleum sector.
During the presentation of the prestigious award at the Agency's Headquarter British Council, the Chief Executive Officer of Diaspora Focus Global, Dr. Stanford, said that, the appointment of Ambassador Baluwa Koroma by His Excellency, President Julius Maada Bio, to head a sector that was considered chaotic, was never a mistake as he has transformed the sector to a revenue generating entity.
"We know how petroleum products across Africa continue to be a political commodity. But under this dispensation, it is a necessity as Ambassador Baluwa Koroma has worked tremendously to ensure the efficient management of petroleum products across every district in Sierra Leone with a uniform pricing. Introduction of fairness and integrity in the sector. This award was given to him because of his market expansion drive in the oil sector as we have seen new players emerging with huge investment opportunities. We should be recognizing the good work of our people when they are alive as that will be a driving force to motivate others to do more," he said.
In his response, Ambassador Brima Baluwa Koroma, dedicated the award to President Bio, for leveraging on his Leadership and support to succeed; adding that the sector has attracted lots of investment. "When His Excellency appointed me, he gave me a clear mandate to create fairness, open up the sector, to have new players and be transparent. Today, we have big investors such as the All Petroleum Products, Conex SL and Aminata & Sons that are about to boosts our sector. Our major market player, National Petroleum (NP) is currently investing in excess of USD26m on a massive transformation of it gantry and improvements on it storage capacity, while LeonOil is remarkably doing well with the most sophisticated gantry in Sierra Leone and it landmark emerging retail outlets. This development is in reponse to government investment policy and transformation drive. This industry is in transition, no joke about it, we all have a role to play to support this transformation and together, we can make Sierra Leone a Petroleum hub for the region and a compelling place to invest," he said.
Ambassador Baluwa Koroma commended Diaspora Focus for also awarding the Agency for transformative development in the Petroleum sector during this difficult moment of global economic recession. He dedicated the award to His Excellency Dr. Julius Maada Bio as he is leveraging on his Leadership in this transformation. Chairman Baluwa Koroma assured that the current milestone in the sector is simply a signpost of greater things yet to come.