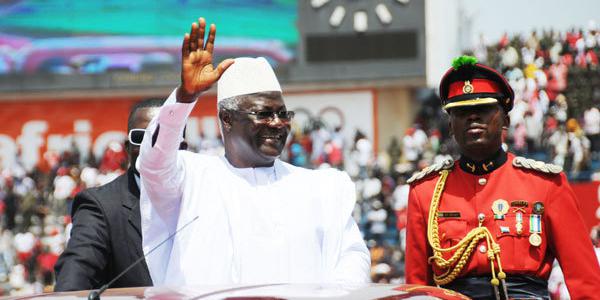 Never Allow One Man to Dominate a Political Party: A Case Study of Ernest Bai Koroma
Sir Winston Churchill is still regarded as the greatest Statesman that ever lived. He is considered by many Historians as Britain's most inspirational Prime Minister.

Immediately after the Second World War, the electorate in Great Britain refused to vote for Churchill's party, the Conservative Party. They instead voted for the Labour Party then led by Clement Attlee. Attlee had served as Deputy Prime Minister in a coalition government led by Winston Churchill.

However, the defeat of the Conservative Party in the election following the end of World War 2 was attributed to the arrogance displayed by Conservative Party candidates in the general elections that year.

The party had pinned all hope on the singular popularity of Winston Churchill. Even Conservative Party Parliamentary candidates were reluctant to campaign for votes. They had come to rely heavily on Churchill's personal popularity to win those elections.

The party's crushing defeat at those general elections should serve as a lesson that, a political party should not be built around one man's popularity.

As faith would have it, Churchill led the Conservative Party to a resounding election victory in 1951. After almost four years in office, Churchill's health took a hammer blow. He resigned as Prime Minister and handed over power to his experienced and urbane Foreign Secretary, Anthony Eden in 1955.
On 24th January 1965, Churchill passed away at the ripe age of ninety. He was accorded a state funeral.
APC's Golden Boy
After almost sixteen years in opposition, the All Peoples Congress party dramatically swept to power in 2007. It was an historic victory.
The party's golden boy, Ernest Bai Koroma became Africa's pet boy. Wherever he went, he was showered with praises and admiration for defeating an incumbent government that had just ended an eleven year-old civil war. In both the 2007 and 2012 elections, the APC relied on Koroma's personal popularity to win both elections.
APC Without Ernest
Ernest Bai Koroma's picture will not be on the ballot papers in the 2017/18 Presidential elections. The APC will have to elect/select another Presidential candidate for the 2017/18 elections. That process is yet to kick off.
No Succession Plan
President Ernest Bai Koroma has still not rolled out his succession plan in the APC. Some people have argued that, the President did not have any succession plan before the outbreak of the deadly Ebola Virus Disease in May last year. They believe that, the President was bent on succeeding himself. Remember the "Afta U Na U" campaign that swept across the country before the shocking outbreak of the Ebola Virus Disease?
I met with the President in Kabala in February 2014. He made it very clear that this was his second and final term as President of Sierra Leone.

In fact, he made it very clear that, he would never again run for public office. I have no doubt in my mind that he meant what he said to me in the presence of other Journalists in Kabala.
Possible Successors
The race to succeed Ernest Bai Koroma as leader and flagbearer of the APC is not gaining much traction again. Most of the possible or natural successors have been eliminated from the race. VP Sam Sumana, Alimamy P. Koroma, Dr. Richard Konte, Alhaji I.B. Kargbo and Kemoh Sesay have all been either eliminated or kept quiet.
The new kids on the APC block are Maj. (Rtd.) Alfred Palo Conteh (a close confidante of Ernest Bai Koroma), John Sesay, Dr. Kaifala Marah and Joseph Kamara of ACC.
Since Ernest Bai Koroma hails from Bombali District, will the APC party allow another candidate from Bombali to fly their Presidential flag?
Dr. Kaifala Marah may stand a much better chance because he hails from Koinadugu District and flies the flag of Kono District. He is more or less a senior citizen of Kono district.

All said and done, the President still finds it difficult to anoint a possible successor.
The lesson to be learnt is that, political parties should not be built around one man.

Thank you!