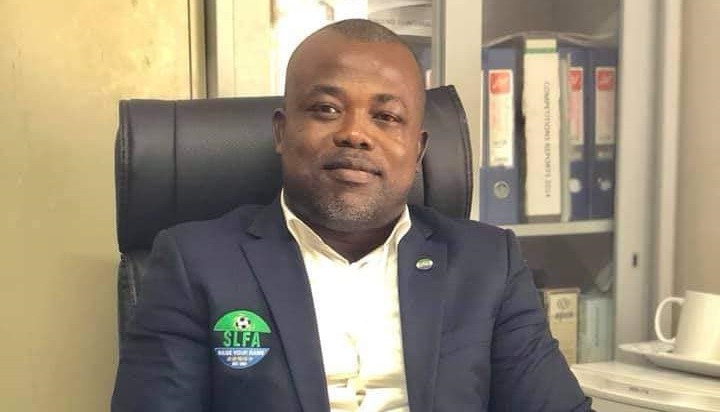 SLFA General Secretary, Chris Kamara Reinstated as Ethics Board Exonerates Him
The Ethics Board of the Sierra Leone Football Association has  reinstated the General Secretary of the FA (Christopher Kamara), after he was exonerated from the accusations of 'obstructing the activities of the Board.'
In a letter issued to  Chris Kamara, the Chairman of the Ethics Board Lawyer Drucil Taylor stated that they found no wrongdoing by the General Secretary that warranted their action to suspend him.
"On the basis of your response as contained in your letter dated 12h February 2022, the response of the President of the Executive Committee of the SLFA aforementioned respectively the content of which was confirmed in the subsequent meeting with the Executive Committee we therefore lift the said suspension with immediate effect as it is now clear to us that you did not, whether by your actions or omission, obstruct the Ethics Board in performing its functions."
The Board's decision was viewed as 'ultra vires' and out of way, because the decision to approve their budget of over 390 Million Leones to investigate 3 pending matters, must come from the Executive Committee of the FA, not the General Secretary as they wrongfully assumed.
It can be recalled that the General Secretary of SLFA was suspended from office in a letter addressed to him by the Board on the 11th February 2022, for what they referred to as 'obstructing the Board's activities. The suspension came after his fracas with some Leone Stars  Players just Over Suitcase issue.
However,  Popular Sport Journalist, Mohamed Elba  believes  that since his appointment as Secretary General of the Sierra Leone Football Association, Chris Kamara has consistently put the name of the FA into disrepute and exposing it to public ridicule.  He expressed his frustrations over the General Secretary by stating that  How can a Sec. Gen. who is supposed to implement directives from the executive committee, on behalf of the football membership, take a unilateral decision without recourse to his bosses?
In his viral post Elba has pointed out  that during the reign of Isha Johansson as President of the FA, it is evident that majority of the football membership had issues with Chris Kamara. He stated that Some of the issues hovered around insubordination, lack of respect, incompetence to adequately manage the affairs of the FA and a complete disregard for the constitution of the FA.
He expressed his disappointment on the Football Association President Thomas Daddy Brima, He believes   "since he was elected President last year, many hoped that the excesses of Chris Kamara will be short-lived or possibly replace him with a more level-headed Sec. Gen. that has the right temperament and tenacity to head the administration of the FA. Unfortunately, it appears as if Chris Kamara is getting his way unabated even at the detriment of the image of our country."
It's no secret that Kamara is an Influential Football Association General Secretary  in Africa with over 7 years  experience as an administrative staff in the beautiful game of football.  Kamara has always maintain innocence of any wrongdoing, and has claimed to be doing due diligence in all his duties at the FA.