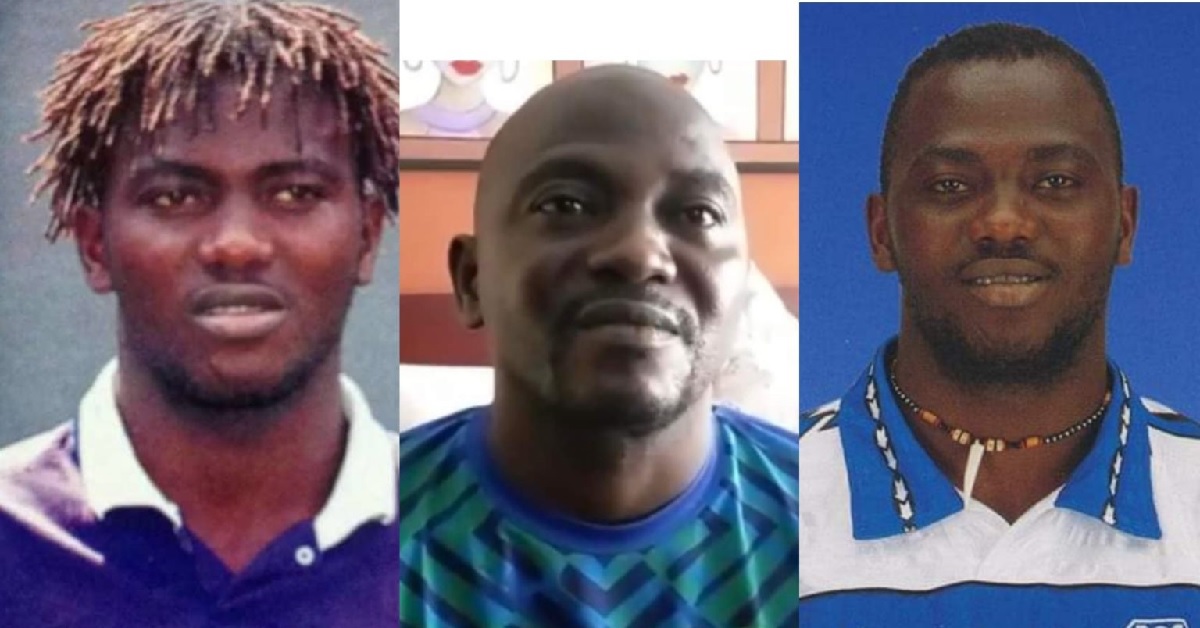 University of Sierra Leone Public Orator Remembers Lamin Junior "Tumbu" Conteh
21 & 28 Green Lane, Tumbu & the Pitch in-between by Kaloga
The morning was far advanced and we were happily playing our version of the 1982 African Nations Cup Tournament. The mood was upbeat as I was dribbling the two-shilling ball past Political and Adizo with Super trailing behind me to cover my rear.
Our pitch was the empty lot between Mammy Osseh's compound i.e. 28 Green Lane and Alhaji Umaru Pateh Jalloh's compound i.e. 21b Green Lane. These two compounds were opposite each other and children from both compounds would converge on either compound to play and relax. There were no inhibitions because we moved freely into both compounds like we owned them.
The sandwiched pitch in question was made up of a tiny outcrop of red stones on the Mammy Osseh end, on the Alhaji Umaru Pateh Jalloh end was a slight elevation resembling an abandoned stage and from the Big Gutter end, the land or our so-called pitch slopped downwards into our favourable Big Gutter. Across Big Gutter was the famous Congo Dust Field of Kossoh Tong where heroes like Issa Pikin Pele of Eastend Lions, Kassim, Pikin Pele of Regent Olympics, and M. George of Sierra Fisheries, and Abulay of Eastend Lions Football Club cut their teeth and rose to fame. Congo Dust Field was not meant for the faint-hearted but those with lionhearts because getting a part of the action requires apt grit and skill.
So, for the likes of us who were not too much into the football thing, we would converge on our makeshift pitch to play out our fantasy.
So it was on that good and glorious morning when Tumbu in his usual meanderings arrived at our tournament and asked that he be fielded because he wanted to play.
'Fula bɔbɔ, A wan ple,' Tumbu demanded. I knew something was up in the air that morning so I obliged and remarked, 'Supa sidɔm fɔs lɛ Tumbu ple,' and Super sat on the sideline to allow Tumbu and I to play against Adizo and Political.
It was quite a ding-dong affair as I was struggling to keep up with Tumbu who was unleashing volley after volley on the Guinea Goal of Political and Adizo but my passes on the other hand were being intercepted by Adizo and that allowed Political to score two goals into our Guinea Goal (these were tinny-Winny goal posts which were miniaturized versions of the real Goal Posts. Tumbu was incensed and suggested that I relax on the sideline to allow him to take on Adizo and Political. I agreed and retired.
By that time, a little crowd was building up and it was no longer a joke but a serious affair between the defensive skills of Adizo and the accurate ball control Political with Tumbu combining all of those skills at that material moment. Tumbu crossed the ball to himself, deftly peeled off away from Political, and shook Adizo to the wrong side before he tapped the ball into the Guinea Goal. It was a match that I was cherishing a lot because Adizo had his hands full as he contended with the best of our generation in front of civil servants, teachers, traders, night watchmen, carpenters, and religious leaders.
Tumbu picked up the two-shilling ball from the foot of Political and left him dazed. Tumbu had only Adizo to beat but he put up a stout defence and unfortunately the ball came back to Tumbu who shot the ball at Mammy Osseh's wall. Adizo chased at it but lost out because the ball was travelling fast and by the time he could salvage the situation the ball was in the net. The onlookers erupted into 'Goal! Goal! Goal!'
Political and Adizo crossed the ball to each other, started stringing passes with Tumbu in the middle running to the left and right, right to left again but was able to bring the two-shilling ball down from mid air and by the time he was on the stony outcrop, Adizo was left trailing behind Tumbu who tapped again into the Guinea Goal. This time, the applause and shouts changed into 'Tumbu! Tumbu! Tumbu!
The morning was fast drawing to a close and Tumbu fearful that his father Doctor Conteh could be home for his lunch, decided to cut short his play, ran home, wiping his feet as he jumped over Big Gutter, waving quick goodbyes and thank yous to us. Doctor Conteh was in the medical profession and had vowed to bring up his children in such a way that they could excel in academia and take up after his profession. The irony was that the Conteh children including their sister were talented footballers who could excel without breaking any sweat.
So that was how our maestro, the king of football, the best of our generation had a close call with us that gracious morning. I was so thrilled and fulfilled to have rubbed shoulders on the pitch with our hero.