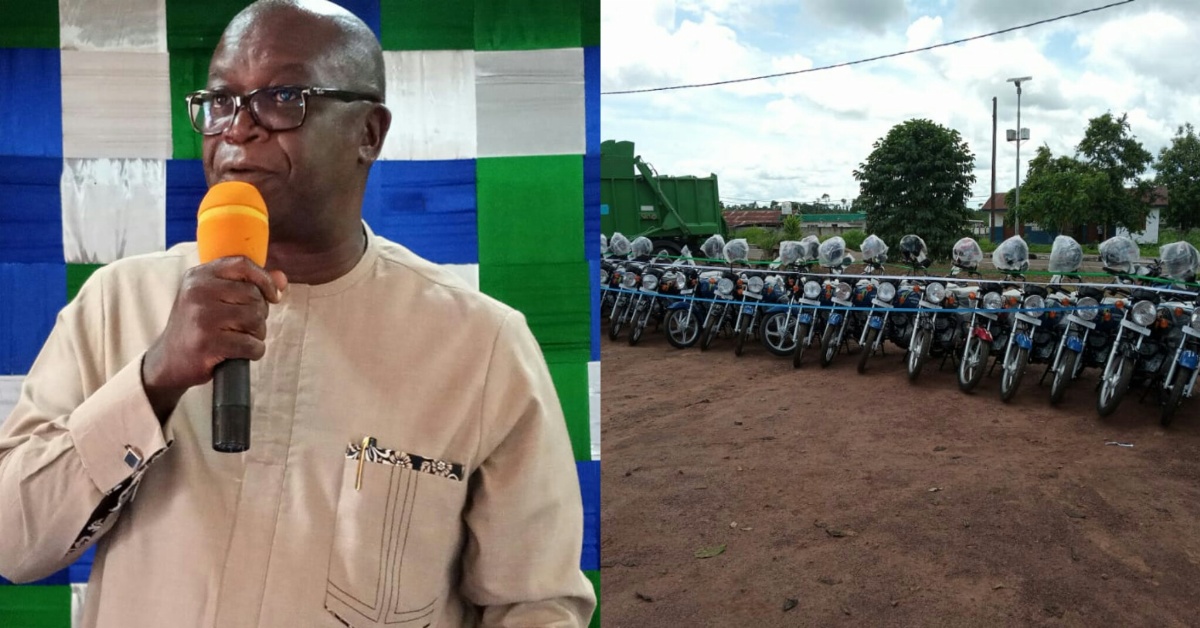 Local Government Ministry Launches 230 Surgery Operations Scheme And 22 Motor Bikes For Monitoring in Moyamba District
The leadership of the Ministry of Local Government and Rural Development (MLGRD) including, Minister Amb Tamba Lamina, his Deputy Minister, Melrose Karminty and the Director of Local  Government has on Thursday  23 June 2022 officially unveiled 230 free surgical operations scheme for residents in the Moyamba District and 22 motorbikes for the Councillors.
The above project was hundred percent funded by the Moyamba District Council through its source revenue. The estimated cost of the 230 surgical operations scheme that is meant for residents with ailments that require surgery is more than 200 million Leones while the 22 motorbikes cost 250 million Leones
In her opening remarks, the Deputy Minister of MLGRD, Melrose Karminty who served as the Chairperson for the program said President Bio was elected on the ticket of development and that as a Ministry and foot-soldiers of the President, they are always happy to visit any  Local Council that follows those dreams, adding that the initiatives of the chairman of the Council in question are remarkable, especially the idea of holding Council's meetings in the Chiefdoms, providing motorbikes for Councillors to monitor Government Projects in the District and giving free access to surgery operations for the residents.
She concluded that even though the Local Councils are not in competition with one another, emulating the good deeds of the Moyamba District Council would be a great move for other Councils across the country.
The Chairman of the Moyamba District Council, Joseph Benedict Mbogba, announced that his administration has been engaging in a series of investments ranging from culvert and bridge constructions across the District, farming, road rehabilitation, and water and electricity projects, amongst others but said that investment would not have been completed if the beneficiaries are affected by ailments that are beyond their control, adding that monitoring of the said projects would also be difficult if the Councillors are immobile.
In his keynote address, the Minister of MLGRD, Amb. Tamba Lamina said President Bio made a promise to deepen decentralization and local governance by bringing the Government closer to the people through local Councils, adding that there is significant change within the past four years in that direction.
He disclosed that the leadership attributes of the Chairman of the Moyamba District Council are worth emulating by other Chairpersons across the country, adding that indeed, the Chairman has fulfilled his dream of good leadership.
"The key priority of the President is Human Capital Development including health, education, and agriculture. All that Chairman Mbogba has highlighted here as part of his achievements within these four years are embedded in the above pillars of the President's agenda," he said while capturing the Chairman's development's records within the Free Quality Education, health and food security.
Minister Lamina ended by unveiling the twenty-two Councillors' motorbikes and the 230 surgery operations scheme for the residents of the  Moyamba District.
Other stakeholders including the District Medical Superintendent, Paramount Chief, and Assistant District Officer, made favorable comments towards the program and urged the beneficiaries to make very good use of the same